Loading, please wait...
Features a built-in audio interface, large jog wheels and four virtual decks for mixing
Hercules announced the newest version of their DJ Console line for Pro DJs, the DJ Console 4-Mx, an innovative and precise controller featuring large jog wheels (each equipped with touch sensor), a built-in audio interface tailored for DJing for easy connection with existing analog gear, and intuitive control over 2 and 4 virtual decks. Built for the ultimate DJ mixing performance, the DJ Console 4-Mx has intuitive and sturdy steel and aluminium crafted body with a wide variety of high-performance controls including 89 controls in 2-deck mode and 150 controls in 4-deck mode. Providing the ultimate portable solution for mobile and radio Pro DJs on the go, the edgy console fits easily into the club scene
Price and Availability
The Hercules DJ Console 4-Mx will be will available on November 22, 2010 for $449.99 (£399.99).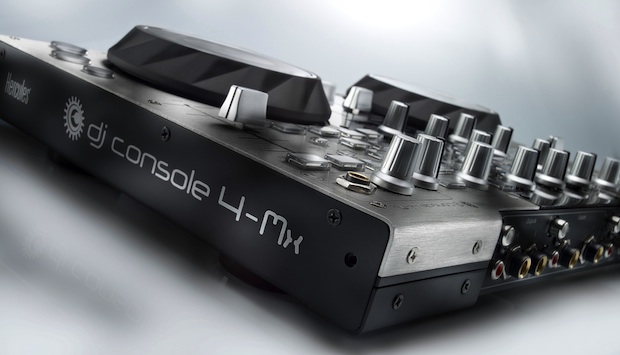 Key features
Large DJ station for mobile computer DJs
2-deck/4-deck metal DJ controller to mix 2 or 4 stereo audio tracks
2 stereo out (for mixing & previewing) + 2 stereo in (for analog gear)
Mobile metal controller: a large mixer (40x25cm) with included carry bag
2 large jog wheels with touch detection
Jog wheel size: 12cm diameter (4.7″) x 1.9cm height (0.75″)
Weight sensors, to detect the hand's weight on the jog wheel top
Great for scratching and seeking within audio tracks
2-deck & 4-deck control
2 shift buttons to turn deck A into deck C, and deck B into deck D
2-deck for standard DJ mixes, when mixing 2 audio tracks
4-deck mixing: double the controls when you mix 4 tracks
VIRTUAL DJ7 LE included: 4-deck DJ mixing software for Windows XP/Vista/7, or Mac OS® 10.5 & 10.6
Where to Buy