Yamaha announced the 7.2-channel RX-V673 and RX-V773WA networked A/V Receivers, featuring HDMI 4K and 3D pass-through, AirPlay compatibility with Apple iOS devices, direct connectivity to iPads, iPhones and iPods via front panel USB ports, intelligent assignable amplifiers and the company's proprietary YPAO system calibration. System control has been made more convenient throughout the line via the recently updated Yamaha AV controller app, which include native iPad and tablet versions, for iOS and Android devices. Providing wide access to content from virtually any source, these network receivers also deliver audio from Internet radio and DLNA-certified devices.
The free top rated Yamaha AV controller app available for iOS (iPad/iPhone) and Android devices offers control over these AV receivers and access to music stored on smart phones and tablets. With the popularity of the Kindle Fire, Yamaha developed a native app that is now available from the Amazon Appstore as well. The App is designed to provide a portrait or landscape mode interface, depending on the device, for easy visibility and use.
Both future proof models will provide 4K video pass-through from yet-to-be-introduced source components that will deliver content with four times the resolution of 1080p. All models also provide 3D video pass-through with Audio Return Channel (ARC).
The flagship RX-V773WA model also features an improved YPAO room calibration system, YPAO R.S.C. (Reflected Sound Control), which offers automatic multi-point room measurement to determine speaker positioning for the highest degree of sound optimization possible. The RX-V673 offers YPAO R.S.C. for automatic single-point room measurement. The YPAO system now ensures more accurate room measurements by confirming the subwoofer is fully responding before making audio adjustments.
The RX-V773WA and RX-V673 feature seven intelligent assignable amplifiers that direct output for surround back, front presence or Zone 2 speakers per listeners' preferences without changing speaker connections. The seven discreet assignable amplifiers of these models also enable a home entertainment system to deliver 7-channel surround sound in one zone, or to bi-amp and double power to main speakers, or to provide audio to Zone 2.


RX-V673

RX-V773WA
The RX-V773WA and RX-V673 offer gamers Video Direct Mode which bypasses the models' video processing chips to speed up video by two frames per second and eliminating distracting delays to play action.
Both models have advanced multi-language on-screen displays that overlay onto HD and 3D video signals to depict system control and setup prompts, as well as album art from content played via connected components and devices.
Ensuring surround sound realism, the RX-V773WA and RX-V673 feature Dialog Lift that ensures dialog is positioned to come from the center of the viewing area for movies and television programming. A Virtual Dialog Lift on these models can also accomplish this with systems that are not set up with presence speakers. Dialog Level Adjustment enables listeners to fine-tune the balance of sound for dialog and vocals. The RX-V773WA and RX-V673 also have a Virtual Presence Speaker function for achieving full CINEMA DSP 3D surround without front presence speakers.
Superior sound quality from iPods, iPhones and iPads is delivered via convenient front panel USB inputs that enable direct digital connectivity. Once connected, song titles are shown on the receivers' attractive on-screen displays. Connected iPods, iPhones and iPads will also charge automatically for later use on the go.
Both models offer a full complement of HD Audio format decoding, including Dolby TrueHD, DTS-HD Master Audio, Dolby Digital Plus and DTS-HD High Resolution Audio.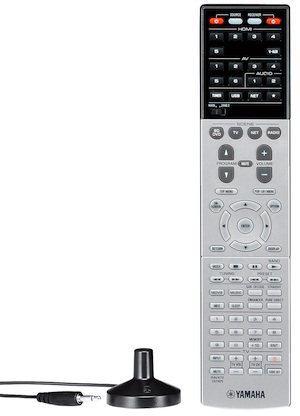 Features (both models)
ECO Mode that reduces the model's power consumption by 20 percent. The model has extremely low power consumption in standby mode and Auto Power Down can be set for 2, 4, 8 or 12 hours;
Subwoofer level adjustment enables increased bass without disturbing the system's crossover point. The result is that vocals and high frequency sounds do not end up "boomy" or "muddy" from being misdirected through the subwoofer;
High speed HDMI switching function remembers the settings of all connected sources, eliminating the time it normally takes to adjust to each when they are selected;
Four convenient SCENE Mode buttons automatically power on the appropriate components and make system adjustments for specific entertainment options.
The RX-V773WA and RX-V673 offer a full suite of proprietary audio features that give users flexibility and control in setting up the best possible audio experiences. CINEMA DSP 3D, with 17 DSP programs, enables users to adjust the listening experience precisely to their preferences. SILENT CINEMA makes it possible to hear large-scale surround sound through ordinary headphones. Virtual CINEMA DSP lets consumers enjoy the effects of CINEMA DSP surround sound without using surround speakers. It can be used with the front / center / presence speakers or even with two front left and right speakers. Yamaha's proprietary Compressed Music Enhancer technology with CINEMA DSP restores lost detail in compressed music files, providing users with a natural sounding listening experience when enjoying their favorite music from an iPod, iPhone or other compressed music source.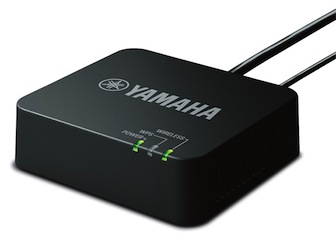 RX-V773WA Additional Features
Includes a Wi-Fi adapter for the wireless streaming of content and system control.
Provides party mode and Zone B dual HDMI outputs that give users unprecedented options and flexibility for enjoying audio and video content throughout the home.
YPAO R.S.C. (Reflected Sound Control) offers automatic multi-point room measurement (single-point measurement on the RX-V673)
Additional 5-watts power across all channels
7.2-channel pre-outs
Compare specifications at Yamaha.com.
The RX-V773WA and RX-V673 follow the introductions of the rest of the RX-V series receivers, including the 7.1-channel RX-V573, 5.1-channel RX-V473 and 5.1-channel RX-V373, which were introduced over the last month.
Price and Availability
Yamaha RX-V673 → $649.95 (available May 2012)
Yamaha RX-V773WA → $849.95 (available June 2012)
See more about:
Newest A/V Receivers
A/V Receiver Reviews
Yamaha A/V Receivers