WedgeWorks, creators of a revolutionary stand for personal media devices, officially launches the MovieWedge™ with availability on Amazon.com. The MovieWedge is designed to prop up virtually any mobile media device on just about any surface. Unlike most plastic or hard material stands, MovieWedge does not slip or slide when placed on airplane tray tables, car dashboards, or even the user's knee. It's easily adjustable to a wide variety of angles and comes equipped with a front ledge that holds your device in place.
The MovieWedge evokes a "Why didn't I think of that!" reaction with its simple, yet highly functional design. A number of stands are available on the market, but most are designed for desktop use only and cost upwards of $25.00. At and introductory price of only $9.95, the MovieWedge is affordable and works on a variety of surfaces.
WedgeWorks: MovieWedge
Versatile stand that works with a wide variety of portable media devices
Holds mobile devices in place on uneven and unsteady surfaces
Compatible with virtually any case or enclosure your device is in
Flexible design allows for varying viewing angles
Soft micro suede covering, perfect for wiping screen
Works with iPhone, iPod, Blackberry, Sony PSP, and most mobile devices
Price: $9.95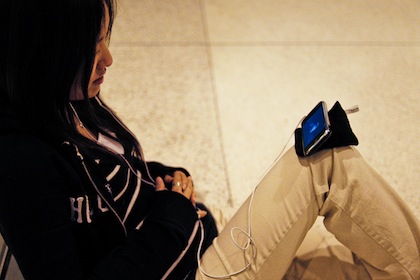 About WedgeWorks:
Based in Miami, FL, WedgeWorks was established in 2009 to design and create products to enhance the mobile lifestyle. Founded by Jonathan Piccolo, WedgeWorks' first product the MovieWedge provides users a simple and functional solution for conveniently watching videos on almost any mobile device.
Reviews Around the Web:

wedgeworks moviewedge mobile