Cool Colors and a Receiver Small Enough to Leave Connected to a Notebook for PC and Mac Users
Verbatim Americas, LLC an industry leader in the data storage industry for 40 years, announced today its new Color Nano Wireless Notebook Mouse for Windows and Mac users. The sleek-looking mouse combines the reliability and performance of 2.4GHz technology in a small form factor nano receiver with a splash of color for a fully enhanced computing experience. Available in red, green, purple, yellow, pink, blue and graphite, users can express their own unique color preferences to match their laptop or computer bag.
The uniquely designed nano receiver is small enough to leave connected to a laptop, making it ideal for anyone who is tired of packing up their mouse receiver every time they're on the go. With 2.4 GHz wireless performance, users won't experience the frustration of delays in cursor movements; and, there will be fewer cords to pack when they take their notebook on the road.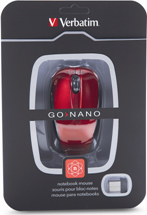 Nano mouse users will also find that the mouse travels well in compact spaces and fits easily in work totes, backpacks or even handbags. For added convenience, the receiver slides into its own storage area in the bottom of the mouse.
"As with the new netbooks that have emerged, our Color Nano Mice enable mobile users to meet their computing needs in a space-saving way," explained Ron Hanafin, Verbatim Product Marketing Manager. "They have the reliability and performance of the Verbatim brand, while also giving people the flexibility to use color to personalize their computing lifestyle."
The mouse's clean, uncluttered design is complemented with a smooth, rubberized grip that provides comfort and control for both right- and left-hand use. A programmable roller button is also included for assigning favorite features to the roller and making them more convenient to access.
Availability, Pricing
Verbatim's new Nano Wireless Mouse is available through Verbatim retail and distribution channels for use with Windows XP, 2000 and Vista systems as well as Mac OS 10.4.X and higher systems. Retail prices start at less than US$29.99 The package includes the mouse, nano receiver, software CD, 2 AAA batteries and a Quick Start Guide.