Tripp Lite Introduces Shallow-Depth Rackmount UPS Systems
Designed for Network/Telecom Wiring Closets
FOR IMMEDIATE RELEASE
Chicago, IL (October 23, 2008)–Tripp Lite, a world-leading manufacturer of power protection equipment, has introduced three new SmartPro Shallow-Depth Rackmount UPS systems designed to meet the unique needs of network/telecom wiring closets. The new UPS systems are designed for wiring closets that require a shallower mounting depth, higher load capacity and longer runtime than standard-sized rackmount UPS systems can provide.
"Depth is at a premium in wiring closets," said Rich Feldhaus, Tripp Lite Product Manager. "Since most standard-sized rackmount UPS systems are designed to fit into deeper rack enclosures found in data center environments, they are often too deep to comfortably fit into wiring closets. The new Shallow-Depth Rackmount UPS Systems, on the other hand, feature a shallow mounting depth, as small as 17.75 inches, allowing them to fit perfectly into the cramped spaces found in typical wiring closets."
In addition to a shallower depth, the new UPS Systems feature a higher output capacity compared to standard-sized rackmount UPS systems. Due to a best-in-class power factor, Shallow-Depth Rackmount UPS Systems allow users to safely connect a higher wattage equipment load to a single UPS system. This is especially important in cramped wiring closets where installing additional UPS systems and the electrical service required to handle a higher load is often not an option.
These new UPS systems increase capacity without sacrificing efficiency. Higher efficiency (up to 97.5%) reduces electricity costs by lowering energy consumption.
Select SmartPro Shallow-Depth Rackmount UPS Systems also feature up to double the runtime of similar standard-sized rackmount UPS systems. Longer runtime supports the mission-critical equipment — servers, switches, hubs and routers — found in network and VoIP/telecom wiring closets.
SMART3000CRMXL features a 3000 VA / 2880 Watt capacity (which can increase to 3600 VA / 3600 Watts with optional hardwire connection), a 4U height and a 17.75 inch depth. SMART2200CRMXL features a 2200 VA / 1900 Watt capacity, a 4U height and a 17.75 inch depth. SMART1500CRMXL features a 1500 VA / 1440 Watt capacity, a 2U height and a 19.5 inch depth.
For complete specifications on the new SmartPro Shallow-Depth Rackmount UPS Systems and to view the entire line of SmartPro Intelligent, Advanced Line-Interactive UPS Systems, go to:
http://www.tripplite.com/ShallowDepthRackmountUPS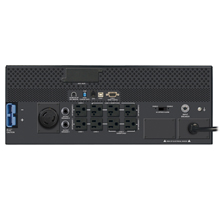 About Tripp Lite
Outstanding product reliability and exceptional service have been Tripp Lite trademarks for more than 85 years. Tripp Lite's innovations include the world's first UPS system designed specifically for personal computers, and the world's most trusted premium surge suppressor–the Isobar–with more than 16 million in use. Tripp Lite maintains the highest level of ready-to-ship inventory in the industry with more than 1,000 different products, including UPS systems, rack systems, PDUs, PowerAlert software for enterprise-level system management and control, surge suppressors, KVM switches, cables and connectivity products, inverters, power strips, notebook accessories and more. Headquartered in Chicago, Illinois, Tripp Lite maintains a global presence with fully staffed offices worldwide. Additional information, including a list of Tripp Lite's sales offices and authorized reseller partners, can be found by visiting Tripp Lite's website: www.tripplite.com.
Media Information
Gloria Wong – Media / Public Relations Manager
773.869.1229 / fax 773.869.1935
gloria_wong@tripplite.com