Tripp Lite Introduces OmniSmart Full Isolation UPS Systems
FOR IMMEDIATE RELEASE
Chicago, IL (September 12, 2006)–Tripp Lite, a world-leading manufacturer of power protection equipment, has introduced three OmniSmart Full Isolation UPS Systems. In addition to reliable battery backup, the new UPS systems include built-in isolation transformers that provide Faraday shielding for a pure ground reference and complete immunity from line noise–without requiring the installation of a dedicated AC input circuit.
"OmniSmart Full Isolation UPS Systems are ideal for point-of-sale, internetworking, audio/video and computing applications," says David Slotten, Tripp Lite's Director of Product Management. "Our customers can install a single battery backup solution that provides all the benefits of a dedicated AC input line without the expense and inconvenience of running special circuits and upgrading site wiring. This series can eliminate disruptions and damage to sensitive equipment in sites with a history of poor performance, often attributable to poor wiring. It's like a dedicated line in a box."
Available in capacities of 500VA, 750VA and 1000VA, OmniSmart Full Isolation UPS Systems feature line-interactive operation with automatic voltage regulation, network-grade surge suppression and compact tower enclosures. Built-in USB communication ports work with Tripp Lite's free PowerAlert Software to provide complete UPS system management and automatic operating system shutdown during extended blackouts.
For more information on Tripp Lite's OmniSmart Full Isolation UPS Systems (models: OMNI500ISO, OMNI750ISO and OMNI1000ISO) go to:
http://www.tripplite.com/products/ups/ups_omnismart.cfm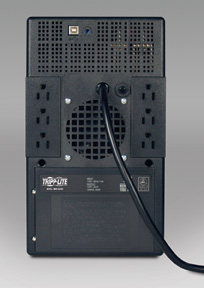 About Tripp Lite
Outstanding product reliability and exceptional service have been Tripp Lite trademarks for more than 80 years. Tripp Lite's innovations include the world's first UPS system designed specifically for personal computers, and the world's most trusted premium surge suppressor–the Isobar–with more than 15 million in use. Tripp Lite maintains the highest level of ready-to-ship inventory in the industry with more than 1,000 different products, including UPS systems, surge suppressors, inverters, KVM switches, cables and connectivity products, power strips and PDUs, notebook accessories, rack systems, network management accessories and more. Headquartered in Chicago, Illinois, Tripp Lite maintains a global presence with fully staffed offices worldwide. Additional information, including a list of Tripp Lite's sales offices and authorized reseller partners, can be found by visiting Tripp Lite's website: www.tripplite.com
Media Information
Gloria Wong – Media / Public Relations Manager
773.869.1229 / fax 773.869.1935
gloria_wong@tripplite.com