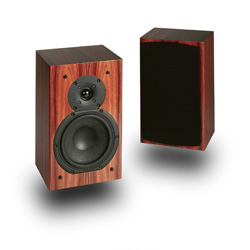 Triad Speakers, Inc. and Anthony Grimani's Performance Media Industries, LTD Partner to Add Three New Home Theater Solutions Atop the Triad Lineup of Products
Custom loudspeaker solution manufacturer, Triad Speakers, Inc., announced today that they have partnered with Anthony Grimani's Performance Media Industries, LTD (PMI) to deliver three high-performance audio solutions for home theater.
Available January 2008, each of the three solutions will be comprised of the same core design and engineering service from PMI, Triad's top-of-the-line loudspeakers and a full ensemble of acoustic treatments. The three turnkey systems represent the very best that Triad has to offer.
"Triad and PMI have a long history of working together to deliver some of the world's best sounding home theaters. The next logical step was for us to standardize several turnkey solutions for the dealer," says Triad's director of sales and marketing Paul Scarpelli.
Drawing from many years of practical experience with Triad products, PMI focused on the company's InRoom Gold Monitors and Platinum LCRs to optimally serve rooms defined as small, medium and large, based on cubic volume.
Integration of each of the three systems begins with the development of a room-specific, engineered plan set by PMI. The 36-page plan set will guide the entire project team in placing the listeners and all loudspeaker components, as well as the specified acoustic treatment system.
"The acoustic character of any room damages the performance of even the finest loudspeaker systems," added Grimani, "By implementing the PMI plan set, the Triad dealer will be able to provide its customer with incredibly high performance and fully utilize the performance of the Triad speaker products."
MSRP for the three systems begins at $40,750 (small room), $60,650 (medium room) and $74,250 (large room). All three systems will be available beginning January 1, 2008.
About Triad Speakers, Inc.
Established in 1982 by President Larry Pexton (a founding member of CEDIA), Triad is a steadily growing provider of complete loudspeaker solutions for multi-room residential and home theater system applications. A top choice by CEDIA custom integrators nationwide, the company has made significant advancements in the arena of front-channel speakers, surrounds, subwoofers, distributed audio speakers via enclosed in-wall and in-ceiling and freestanding designs.
Triad defined itself in 1992 as a provider of "unique architectural audio/video solutions through innovative design and manufacturing." That mission is unchanged in 2007. The company has explicitly studied and modeled the Toyota Production System to implement its mission. The latest improvement is offering, at no extra charge, custom paint match of the grille frames and inserts in its U.S. manufactured products. Over 90% of Triad's products are manufactured daily in Portland Oregon, in a pure build-to-order operation with no work in progress and no finished goods inventory of the US built products. The company uses the finest materials, including premium MDF, drivers from the finest vendors in Northern Europe, high-grade crossover components, and the best veneer and paint finishes and grilles.
In the 2007 Inside Track Annual Supplier Loyalty Test, Triad achieved first place in its group of 16 custom installation companies in 13 of 16 parameters. Triad ranked first in product performance, product reliability, distribution policies that support specialists, obtainable profit margins, tech support, resolution of service, return and repair issues, quality of sales representatives, ease of installation / use; ease-of-doing-business; product changes / price protection, appropriate assortment; just-in-time delivery and specialist oriented business programs. The company placed second in product innovation; sixth in dealer training and eighth in brand recognition. 2007 is the second consecutive year that Triad ranked as Best Custom Installation Company.
Triad Speakers, Inc., 15835 NE Cameron Blvd., Portland, Oregon 97230; Main Phone: 503.256.2600; Fax: 503.256.5966; Internet: http://www.triadspeakers.com
About Performance Media Industries, Ltd.
PMI is a consulting firm specializing in the design and engineering of world-class home theater rooms. Founded in 1999 by Anthony Grimani, Dolby Labs and Lucasfilm THX veteran, PMI has completed over 300 designs. The PMI team possesses vast knowledge of audio/video electronic, as well as experience in the fields of acoustics, physics, architecture, mechanical engineering and construction. PMI provides complete design and calibration services and can facilitate the entire construction process.
For design projects, PMI develops engineered plan sets that are unique, tailored to the dealer's project. PMI staff members also provide the appropriate level of support on each project. Each engineered plan set is comprised of 5-100 pages and includes details for wall, ceiling and floor construction, room ergonomics, A/V system and acoustic treatment layout. Builders, architects, interior designers, and A/V installers all use the plan set in the process of implementing a world-class Home Theater.
Performance Media Industries, Ltd., 9A Mono Avenue, Fairfax, California 94117; Main Phone: 415.454.2087; Fax: 415.454.2171; Internet: http://www.pmiltd.com