Satellite A Series
Toshiba's New Redesigned Satellite A, M, P and U Series Laptops Combine Multimedia Performance, Style and Eco-Efficiency Starting at $699.99
Toshiba's Digital Products Division (DPD), a division of Toshiba America Information Systems, Inc., unveiled the latest models in its top-selling line of Satellite consumer laptops. Built with the new economy in mind, the new Satellite line-up delivers performance, features and style, while answering consumer demand for more battery life and eco-efficiency. Offered at a variety of price points starting at $699.99, these Satellite laptops offer maximum value to students, home and power users alike.
With four different product series, Satellite laptops make it easy for consumers to find the laptop that's right for them. The Satellite M and Satellite U Series offer great multimedia performance and everyday mobility, while the more powerful Satellite A and Satellite P Series, deliver an excellent platform for powering HD entertainment.
"Toshiba is the first manufacturer to deliver a fully redesigned and brand new line of consumer laptops specifically for this new economy," said Ron Smith, vice president of marketing, Toshiba America Information Systems, Inc., Digital Products Division. "This new portfolio of mobility and entertainment laptops is the result of listening to consumer demands. We focused on incorporating premium new features and style elements at price points that make sense for everyone, whether they need a new laptop for home, work or school."
The new Satellites feature an entirely redesigned form factor, incorporating new premium finishes, such as the Fusion™ Finish with a new Sonic pattern in Onyx black on all Satellite A, M and P Series laptops and the fashionable Textured Finish with Matrix pattern in Luxe Brown available only on the Satellite U Series, as well as polished chrome accents and new modern keyboards. Additional new features available on select models include:
High Definition Widescreen Display: The new HD TruBrite™ widescreen displays feature a stunning 16:9 aspect ratio and native 720p resolution, offering more viewing space than standard displays while delivering a more enjoyable TV-like experience. In addition, select models include LED backlit displays that light up instantly and are more environmentally conscious and energy-efficient than standard TFT LCD displays.
Cinematic 'Edge-to-Edge' Display: With an uninterrupted, seamless edge between the glass screen and stylish chrome trim, users will be able to focus on the task at hand without distraction.
New Sleek Flat Keyboard with black matte finish: A comfortable typing surface and premium look that is less prone to fingerprints.
Illuminating LED Backlit Keyboard: Enjoy more computing time even in lower light conditions.
Slot-loading DVD Drive: Combining fashion and function, the adoption of slot-loading drives eliminates external moving parts and makes loading DVDs and CDs easier in confined spaces. The new drives have all the same capabilities of Toshiba's DVD SuperMulti drives with Labelflash.
Touchpad with Multi-Touch Control: The standard touchpad now includes multi-finger touch control capabilities, making it easier to scroll and navigate through Web pages and long documents or rotate and zoom into images. These new touchpads feature four gestures: Rotate, Ping, Momentum and Scroll.
Toshiba Power-saving Eco Utility button: From a new button on the Feathertouch control panel above the keyboard, users can now access a utility that allows them to monitor and adjust their power consumption and settings in real-time. The utility also provides daily, weekly and monthly analysis reports that show accumulated power savings.
Toshiba PC Health Monitor: A system utility that proactively checks the critical components of the laptop for problematic conditions, such as battery performance, heat and hard drive movement and alerts the user to potential problems before it's too late.
Hard Drive Impact Sensor: A built-in 3D accelerometer that protects the user's hard drive to safeguard data from the daily bumps of mobile life.
Complete Line-up
The new Satellite laptops continue to include premium features such as LED-illuminated Feathertouch multimedia command keys, built-in Webcams with Toshiba's face recognition software, harmon/kardon speakers and Toshiba's innovative eSATA/USB combo ports with USB Sleep-and-Charge at starting price points ranging from $699.99 to $849.99. They include: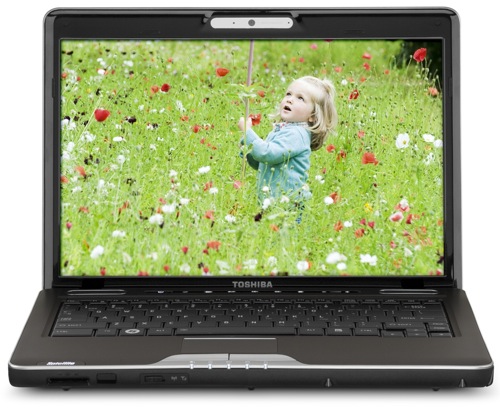 Satellite U505
For Multimedia and Mobility:
The Satellite U500/U505: The Satellite U Series is not just a highly mobile laptop, it's a fashion statement. With a unique textured finish on the outside and impressive multimedia performance on the inside, this ultraportable fuses function with style and travels well with a weight starting at just 5 pounds. Pricing starts at $849.99 MSRP.
The Satellite M500/M505: The Satellite M Series is a versatile, upscale multimedia performance laptop for work and play for home users, students and mobile enthusiasts. With its dashing good looks, this laptop packages performance-class technology with a 14-inch high-def LED display perfect for enjoying digital media, casual gaming or even getting work done. Pricing starts at $699.99 MSRP.
For Widescreen HD Entertainment:
The Satellite A500/A505: The Satellite A Series is an entertainment-packed performance laptop that combines high-end processing with Toshiba's latest design elements — perfect for home users and tech enthusiasts. The sleek Satellite A Series 16-inch diagonal widescreen HD Edge-to-Edge display on particular models, grill-encased harmon/kardon speakers, slot-loading DVD drive and glossy Fusion finish will turn heads, and its astonishing performance and massive hard drive will keep you entertained for hours on the go. Pricing starts at $749.99 MSRP.
The Satellite P500/P505: Featuring a massive 18.4-diagonal widescreen HD TruBrite display, the Satellite P Series is designed with digital media enthusiasts and mainstream PC gamers in mind. The Satellite P Series offers more than an ordinary laptop, and not just in size. Featuring grill-encased harmon/kardon speakers, as well as sleek slot-loading DVD drives and glossy Fusion Finish with Toshiba's new Sonic pattern, this high-performance desktop replacement also incorporates powerful processing muscle. Select models also include Edge-to-Edge displays and illuminating backlit keyboards. Pricing starts at $799.99 MSRP.
Greener than Ever
All new Toshiba laptops are RoHS-compatible, effectively reducing the environmental impact by restricting the use of lead, mercury and certain other hazardous substances. In addition, all of Toshiba's new laptops are boxed in packing made of 90 percent recyclable materials.
Toshiba also offers a computer trade-in and recycling program to reduce environmental impact and promote efficient utilization of resources. All Toshiba computers qualify for free recycling, while non-Toshiba computers and other consumer electronic products can be recycled for a small fee.
Availability
The new Satellite laptop models are available today in both Intel and AMD CPU configurations and can be purchased at a variety of major consumer electronics and computer stores nationwide or directly from Toshiba at toshibadirect.com. Detailed product specifications and feature information can be found at laptops.toshiba.com/satellite.