Toshiba announced two new high-performance laptops, the Qosmio X875 and Qosmio X875 3D, designed for enthusiast gamers, media creators and advanced users who demand the most powerful equipment. The gaming laptops are fully equipped with the latest processor technology from Intel and NVIDIA, providing users with the power and speed required to take on the most demanding tasks and graphics-intensive applications with ease.
The new Qosmio X875 and X875 3D laptops are powered by 3rd Generation Intel Core processors that deliver amazing performance and stunning visuals boosted by NVIDIA GeForce GTX 670M graphics processor with 3GB of GDDR5 discrete graphics memory3 to take on graphics-heavy projects and the latest 3D games. The multimedia powerhouse gaming laptops are encased in Toshiba's new Black Widow styling, featuring a diamond-textured aluminum body and a glowing red LED Qosmio logo on the cover with raised tile LED-backlit keyboard and 10 key.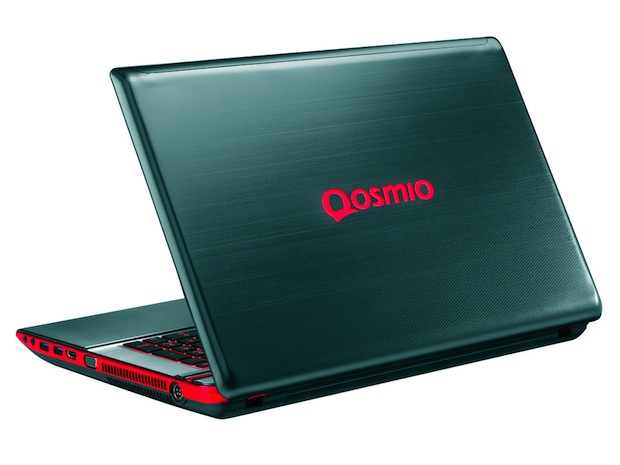 The Toshiba Qosmio laptops offer either a high-resolution 17.3-inch diagonal HD+ (1600×900)TruBrite display or a full 1080p HD with 3D-ready screen that includes NVIDIA 3D Vision 25 Kit with Lightboost. Harman/kardon quad speakers with Slipstream technology provide superior audio and SRS Premium Sound 3D enhances the surround sound experience. Plus a Blu-ray Disc player and HDMI port delivers 1080p output to an HDTV. Also, Toshiba Media Controller software lets users easily share and stream content with other DLNA-compatible devices within a home network.
Smart technologies include Toshiba Sleep & Music that allows users to utilize the premium speakers to enjoy music even while the laptop is powered down. Dual USB Sleep & Charge ports enable users to charge their USB-powered devices while the system is sleeping or powered off. Four USB 3.0 ports are available with speedy hybrid hard drives and dual hard drive combinations in configurations with up to 2TB of on-board storage, as well as up to four slots (two user accessible) for 1600MHz memory. Gigabit Ethernet and wireless capabilities for faster upload/download and LAN gaming are also included.
Pricing and Availability (Q3 2012)
$1,299 → Toshiba Qosmio X875
$2,499 → Toshiba Qosmio X875 3D