Toshiba has introduced the Portege R700, the U.S version of the world's lightest 13.3-inch full-performance ultraportable laptop with an integrated DVD drive. The Portege R700 provides business users with unprecedented performance and durability in a highly mobile product with prices starting under $1,000.
With a starting weight of just three pounds and about one inch thin, the Portege R700 is able to support the latest Intel® Core family of full-powered processors as a result of new Airflow Cooling Technology. This innovative new cooling system co-developed by Toshiba and Intel uses directed streams of fresh air to cool the heat-generating components so business users can get the performance, mobility and longer battery life they need to stay productive on the go.
The Portege R700 also features a light, yet durable magnesium alloy casing reinforced with a new honeycomb rib design incorporated within the palm rests and base of the laptop. Similar to technology used in aerospace construction, this structural enhancement to the laptop provides increased rigidity and durability.
The laptop also features Toshiba's EasyGuard Technology, which helps protect the laptop from jolts, spills and theft. This includes added protection around system components, a Hard Drive Impact Sensor and spill-resistant keyboard as well as a host of software that continuously checks the performance and functionality of the system.
With an all-new sophisticated design that will turn heads in the boardroom, the Portege R700 features a 13.3-inch diagonal HD widescreen LED-backlit display, a premium raised tile keyboard and a wide TouchPad with customizable Multi-touch Control that makes typing and navigation easy and comfortable.

Equipped with Windows 7 Professional, the laptop includes a wealth of features and ports required by business users, including spacious hard drives, fast DDR3 RAM, the ability to dock to a port replicator, an ExpressCard slot, an eSATA/USB combo port with Sleep-and-Charge, as well as a built-in DVD SuperMulti drive and Webcam. The Portege R700 also features a high-capacity six-cell battery with a battery life rating of up to 8.5 hours. An optional nine-cell battery that can remain on when docked will increase the battery life rating up to 12.5 hours.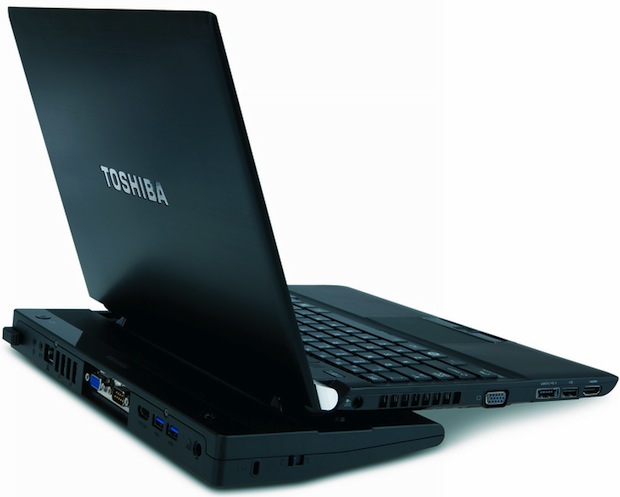 A new High-Speed Port Replicator for the Portege R700 (sold separately for $199.00 MSRP) provides fast access to a desktop environment and eliminates the hassle of connecting multiple cables. The port replicator features a host of ports, including two ultrafast USB 3.0 ports, four USB 2.0 ports, Gigabit Ethernet as well as Line-In/Line-Out audio ports, HDMI, RGB and Serial connections.
The laptop will be available in three configurations:
The Portege R700-S1310 features the Intel Core i3 processor and a 500GB hard drive for $999
The Portege R700-S1320 features the Intel Core i5-520M processor and a high-speed 320GB 7200RPM hard drive for $1,299
The Portege R700-S1330 features the powerful Intel Core i7-620M processor and a 128GB solid state drive for $1,599.00
All three configurations come with 4GB DDR3 memory and a Standard Three-Year International Limited Warranty.
Consumer Model Also Available
Toshiba will also offer a consumer edition of the laptop, the Portege R705. Sold exclusively at Best Buy for $889.99 MSRP, the laptop will feature a Magnesium Blue cover and will be powered by the Intel Core i3 processor, 4GB of DDR3 memory and a 500GB hard drive. In addition, the Portege R705 will feature Intel Wireless Display for wirelessly connecting the laptop to a big screen HDTV. The Portege R705 will not include ExpressCard or docking capabilities.