Toshiba announced its Canvio 3.0 portable hard disk drive (HDD) line featuring cloud-based backup capabilities. It also features simple plug-and-play operation, pre-loaded backup software, and is compatible with personal computers and other devices equipped with USB 3.0 or USB 2.0 ports.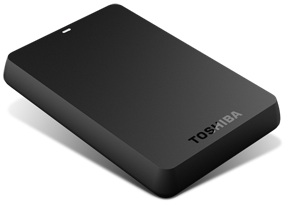 Toshiba also announced the expansion of the Canvio Basics family to include the support of USB 3.0, enabling Canvio Basics users to take advantage of the faster data transfer speed of USB 3.0-enabled devices. The Canvio Basics 3.0 features a new compact design and is also available in 500GB, 750GB and 1TB capacities in a black satin finish.
The Canvio 3.0 drives are pre-loaded with Windows-based NTI BackupNow EZ software that provides step-by-step and fully-customizable backup capabilities to the cloud and to the drive. Users create a cloud account with NTI BackupNow EZ where they can backup specific folders, certain file types, and conduct a complete system backup to the Canvio 3.0. The backup software also scans the user's system and files and recommends which files to backup to cloud-based or on-device storage.
For advanced users, the Canvio 3.0 also offers complete password protection with up to 256-bit data encryption to prevent unauthorized access to data; an on-screen Drive Space Alert monitor also sends an alert when storage space is running low. The internal Shock Sensor and Ramp Loading Technology protect the drive during daily movement from a pocket, desk, bag, or beyond.
The stylish Canvio 3.0 product line also continues Toshiba's high quality industrial design, including its pocket-sized, rounded rectangular form factor and sleek high gloss finish. Plus the Toshiba Canvio 3.0 drives includes a three year limited warranty.
Pricing and Availability
The Toshiba Canvio 3.0 is available in black, white, silver, red, green, and blue. The Canvio 3.0 Basic comes in black.