New GO 740 LIVE Offers Enhanced Navigation with Real-Time Traffic, Unique IQ Routes and Other Helpful Features
TomTom, the world's leading navigation solutions provider, today announces the GO 740 LIVE, a connected portable navigation device that provides the industry's best routing and helps drivers take control of their daily drive via automatic delivery of helpful features including: real-time traffic information, TomTom Fuel Price Service, Local Search powered by Google, TomTom Weather, QuickGPSfix™ and TomTom Buddies.
Optimal Routing
The TomTom GO 740 LIVE device enables users to always drive the smartest and most efficient routes, whenever or wherever they go. The new device comes pre-programmed with a new and extended version of TomTom's innovative IQ Routes™ Technology, which calculates routes based on historical travel time information for every road, every day of the week and now even the time of day. The feature is powered by millions of global TomTom customers within the Company's installed base who anonymously report historic traffic flow data as they drive. Over the past two years, more than 1.8 trillion miles of roads have been recorded by the TomTom community and implemented into this unique technology.
Wireless Real-Time Traffic Feeds
In addition to TomTom's embedded IQ Routes Technology, the GO 740 LIVE automatically and wirelessly receives real-time traffic speed and incident reports every two to five minutes. Traffic delays can be heard audibly on the device as well as displayed on the screen. The driver can either choose to remain on their current route based on the new estimated time of arrival, or can take advantage of a faster, alternative route suggested by the device based on its knowledge of traffic conditions. Drive time minutes saved and the new arrival time are displayed on the screen.
Smart Combination: Fastest Routes and Most Accurate Arrival Times, 24/7
The powerful combination of TomTom's IQ Routes Technology and real-time traffic feeds uniquely enables the TomTom GO 740 LIVE to provide drivers with the fastest routing and most accurate travel times without the need for Bluetooth connectivity or wires – 24 hours a day, seven days a week.
"The TomTom GO 740 LIVE sets a new standard for the navigation industry and will dramatically change the way navigation devices are used," said Jocelyn Vigreux, president of TomTom Inc. "In addition to helping drivers get to their destination in the fastest and most efficient way, the GO 740 LIVE will become a daily 'driving companion' that keeps drivers informed of all the factors that could affect their route, and puts them back in control of their drive."
"The addition of connected services is a critical evolutionary step for navigation devices," says Thilo Koslowski vice president and automotive practice leader at Gartner. "Connected services offer daily relevance and create contextual value propositions for the user. This will ultimately enrich the navigation experience and create new business opportunities."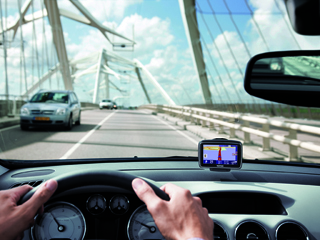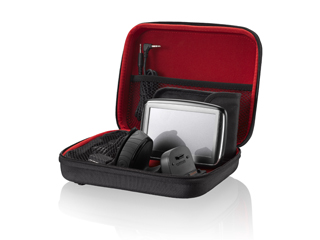 TomTom LIVE Services*
In addition to real-time traffic, the TomTom GO 740 LIVE also comes with a range of other relevant services delivered directly 'over-the-air.' All LIVE Services work right out of the box via a built-in SIM card and GPRS modem. One free year of service is included in the box.
Local Search powered by Google
Through a two-way wireless data connection, drivers can automatically access a countless number of points of interest (POIs) with Local Search powered by Google. This tool gives TomTom users access to information and location details of more than 11 million businesses and turns search results into a destination with the press of a button. Results show the location name, a user-generated rating (if available) and phone number, so drivers can call ahead to book a restaurant or hotel of their choice, for example.

TomTom Fuel Price Service
TomTom's over-the-air fuel price search allows users to locate pricing information, and is refreshed up to six times a day from 120,000 gas stations across the U.S. Drivers can choose which type of gas they would like tracked–regular, mid-grade, premium or diesel–and find the lowest prices along their route or in their local area.

TomTom Weather
The TomTom GO 740 LIVE also provides five-day weather reports in the local area, or for a chosen destination, and allows users to plan their trip according to road conditions.

TomTom QuickGPSfix™
QuickGPSfix allows drivers to begin their trip even faster by automatically locating and updating satellite locations on their device.

TomTom Buddies
With TomTom Buddies, drivers can link their TomTom device to those of their friends so they can locate each other on the map, share favorite locations, as well as exchange and share location information and text messages.
Additional Features
New Form and Interface
The new GO 740 LIVE is redesigned with TomTom's iconic thin form and an elegant user-interface that features optimized icons for even easier navigation through the device menu. The enhanced Advanced Lane Guidance feature provides expanded coverage and even clearer lane information for complex highway junctions that indicate which lane to take when multiple exits are close together. The GO 740 LIVE comes with a windshield mount that includes a system connector and twisting locking mechanism to ensure easy docking and charging.

Voice Recognition
With safety in mind, the TomTom GO 740 LIVE also features expanded voice recognition. Activated by tapping a single on-screen icon, drivers can direct the GO 740 LIVE with over 130 different voice commands. Drivers can plan an entire route, adjust volume or screen brightness or even make a phone call with their compatible cell phone by simply using their voice.

TomTom Map Share™
Like all TomTom devices, the GO 740 LIVE comes with TomTom Map Share, TomTom's unique community-based map improvement technology that allows drivers to make specified improvements to their map instantly on their device. Leveraging its base of 25 million users to date, TomTom has received over five million map improvements thus far. The combination of superior Tele Atlas map updates and Map Share allows TomTom to deliver the most up-to-date and accurate maps in the industry.
Availability and Price
The TomTom GO 740 LIVE will sell for $499 at major retailers in the United States beginning in Q2 2009. One year of TomTom LIVE Services will be included in the box.
Product Specifications:
Unit Dimensions (H x W x D): 3.4″ x 5.0″ x 0.9″
Unit Weight: 7.9 oz.
Touch-screen: 4.3 inch full TFT color LCD (480 x 272 pixels, supports 64K colors)
Memory: 2 Gb Internal Flash (micro-SD slot for additional storage)
Maps: Pre-loaded maps of USA, Canada from Tele Atlas
GPS: High-sensitivity GPS chipset
Bluetooth: for Hands-Free calling
Connected: Built-in SIM card and GPRS modem for plug-and-play connectivity
Battery: Rechargeable internal 3 hour battery
* TomTom LIVE Services are available in the US only.