TiVo allows video podcast and RSS feed providers the ability to publish video content directly to the TiVo DVR and consumers the ability to watch instantly on the television
TiVo Inc., the creator of and a leader in television services for digital video recorders (DVRs), today announced the addition of hundreds of new free Web videos available directly to TiVo Series3™, TiVo HD and TiVo HD XL subscribers. In addition to these new channels, any video podcast provider can now publish video content to TiVo DVRs using industry-standard Really Simple Syndication (RSS) and H.264 video.
Hundreds of new podcast channels are being added to TiVo's current suite of free Web videos, from mainstream outlets such as CBS, FOX, Oprah, G4 and more. TiVo users can watch any video instantly, or set a Season Pass™ recording and have new videos downloaded automatically to their TiVo Now Playing List as they are published. Users also have the ability to stream unique and niche content not listed by TiVo by simply entering the URL for a video podcast they want within the "Video On Demand" menu on their TiVo DVR.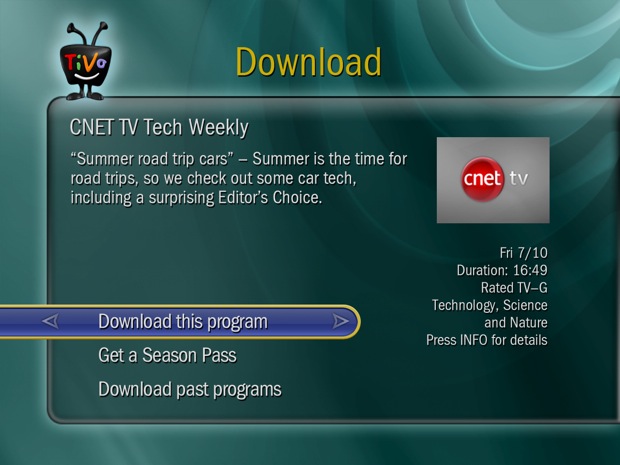 "What makes this announcement unique is that everyone has the ability to publish their content to the TiVo DVR for users to watch on the best screen in the home, using open industry standards such as RSS and H.264 video," said Evan Young, senior director of broadband services for TiVo Inc. "With a robust library of Web videos already available through the TiVo DVR, and the ability to enter the URL for other podcasts you want, this announcement puts the control in the hands of the user to search for and retrieve exactly what they want to watch and from the comfort of the couch."
All TiVo podcast channels and episodes are also indexed in TiVo Search, the complete way to search for broadcast and broadband content seamlessly on the TiVo user interface.
Starting today broadband connected HD subscribers can access this feature on their TiVo DVR. For more information on this service and how to publish content to the TiVo DVR visit www.tivo.com/rssvideo.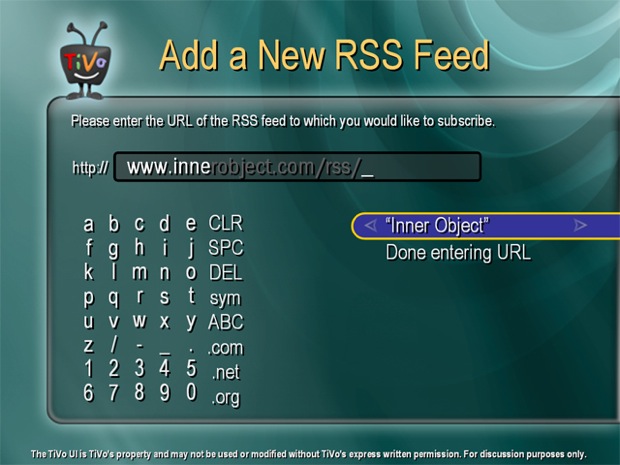 About TiVo Inc.
Founded in 1997, TiVo Inc. (NASDAQ: TIVO) developed the first commercially available digital video recorder (DVR). TiVo offers the TiVo service and TiVo DVRs directly to consumers online at www.tivo.com and through third-party retailers. TiVo also distributes its technology and services through solutions tailored for cable, satellite, and broadcasting companies. Since its founding, TiVo has evolved into the ultimate single solution media center by combining its patented DVR technologies and universal cable box capabilities with the ability to aggregate, search, and deliver millions of pieces of broadband, cable, and broadcast content directly to the television. An economical, one-stop-shop for in-home entertainment, TiVo's intuitive functionality and ease of use puts viewers in control by enabling them to effortlessly navigate the best digital entertainment content available through one box, with one remote, and one user interface, delivering the most dynamic user experience on the market today. TiVo also continues to weave itself into the fabric of the media industry by providing interactive advertising solutions and audience research and measurement ratings services to the television industry.