DLP HDTVs from Mitsubishi and Samsung Enable Next Generation 3-D Capabilities
DLP Products from Texas Instruments is enabling stereoscopic 3-D capability for HDTVs that are currently on the market.
As the single unifying technology behind leading 3-D HDTV applications, the extremely fast response and refresh rate of the DLP chip allows consumer electronics manufacturers to innovate options for HDTVs that add an immersive third dimension to TV viewing. Future-proofing HDTVs with 3-D capabilities is especially desirable for video gaming, immersive action scenes, and watching fast-action sports.
Following a similar path to DLP Product's innovation that launched DLP Cinema and the digital cinema industry, 3-D DLP HDTV opens the doors for immediate adaptation of existing 3-D computer games, software and future 3-D content creators by providing a unique display option. Over 4,500 screens world-wide use DLP Cinema technology, with nearly 1000 of them enabled for 3-D movies and further growth expected as Hollywood expands the number of 3-D releases.
Adam Kunzman, business manager, DLP HDTV Products commented, "DLP Products has a strong history of first innovations. We were one of the first out with full high-definition 1080p, the first with high color LED and we are proud of our first with a true no-compromise 3-D HDTV experience for the home. 3-D HDTV viewing is going to further drive interest in big-screen home entertainment."
Newly developed 3-D-Ready HDTV models from Mitsubishi and Samsung create a high-definition stereo 3-D picture when connected to a compatible HDMI/DVI source. Active glasses synchronize to the display then separate the stereo images to each eye thus providing the enriching flicker-free immersive 3-D viewing experience.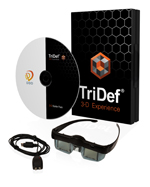 Kunzman further adds, "Viewers don't have to be limited in their movement nor settle for small screen size due to cost. The fast switching speed and high contrast of DLP technology enables a high-quality, immersive experience at price points that never existed before. "
TI DLP Products has ushered in rapid growth of 3-D movies and content by working closely with major movie studios, OEMs and partner companies. Consumer interest in 3-D entertainment content continues to steadily increase as a result of theatrical 3-D releases such as Meet the Robinsons, Harry Potter and the Order of the Phoenix and other studio projects in development including Beowulf and Avatar.
"The next evolution of film making and production will center around creating an immersive experience for viewers," said Steve Schklair, founder and CEO of 3ality, the leading 3-D production company. "3-D advances are the corner stone to producing the ultimate experience for watching movie footage or live events. DLP Products has been a strong contributor the future of 3-D."
For more information on DLP 3-D HDTV visit http://www.dlp.com/hdtv/3-d_dlp_hdtv.aspx.
About Texas Instruments DLP Products
DLP display technology from Texas Instruments offers clarity down to the most minute detail, delivering pictures rich with color, contrast and brightness to large-screen HDTVs and projectors for business, home, professional venue and digital cinema (DLP Cinema). 50 of the world's top projection and display manufacturers design, manufacture and market products based on DLP technology. DLP is the only HDTV technology built from a foundation in the digital cinema where it set the industry standard demonstrated by the deployment of DLP Cinema technology in 4,500 theaters worldwide. At the heart of every DLP chip is an array of up to 2.2 million microscopic mirrors which switch incredibly fast to create a high resolution, highly reliable, full color image. DLP technology's chip architecture and inherent speed advantage provides razor-sharp images and excellent reproduction of fast motion video. Since early 1996, more than 13 million DLP subsystems have been shipped. For more information, please visit www.dlp.com.
About Texas Instruments:
Texas Instruments Incorporated provides innovative DSP and analog technologies to meet our customers' real world signal processing requirements. In addition to Semiconductor, the company includes the Educational Technology business. TI is headquartered in Dallas, Texas, and has manufacturing, design or sales operations in more than 25 countries.
Texas Instruments is traded on the New York Stock Exchange under the symbol TXN. More information is located on the World Wide Web at www.ti.com.
DLP and DLP Cinema are registered trademarks of Texas Instruments.