SoundUP Delivers iPod and MP3 Users Rich Tones and CD Quality Sound
Targus Inc., maker of the world's top-selling notebook computer cases and accessories, launched its SoundUP, high definition sound enhancer. SoundUP is the ideal solution to improve the sound quality of compressed audio files, providing rich, CD-quality sound from iPod and MP3 players. The device separates and reprocesses digital music files, delivering a three-dimensional sound envelope from your portable music player.
"iPods and MP3 Players represent one of the fastest-growing segments of the consumer electronics industry today," stated Al Giazzon, vice president of marketing at Targus. "SoundUP delivers amazing sound quality giving consumers the ultimate portable music experience."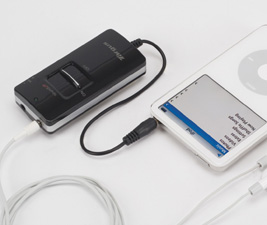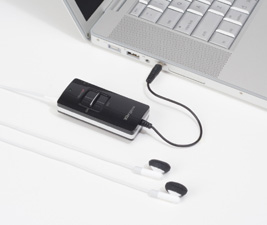 iPod SoundUP (Model #AEA03US)
SoundUP takes portable audio to the next level by recreating the lost audio content and quality due to compression. The device incorporates Phantom Technologies™ patented circuit, which enhances sound quality by up to 20-25%, revealing instruments and voices from original recordings that are typically lost during compression. A powered audio-out splitter allows the use of two headphones, and the in-line volume control provides easy audio control. The SoundUP comes standard with 1 AAA battery. The new SoundUP measures only 3″ x 7/8″ x 1.5″ and weighs less than 2 ounces. The suggested retail price is $29.99.
The new SoundUP is immediately available at leading etailers as well as http://www.targus.com.
About Targus
Targus invented the notebook case and continues to advance the mobile accessories category with innovative and relevant solutions for today's mobile lifestyle. Targus products enhance productivity, connectivity, and security, liberating users to work in any and all environments with the utmost convenience and comfort. Founded in 1983, Targus headquarters are located in Anaheim, Calif., with offices worldwide and distribution agreements in more than 100 countries. For more information on Targus visit targus.com.
Targus and the Targus logo are registered trademarks of Targus Group International. All rights reserved. All other marks may be the property of their respective titleholders.