Wall-mounted speakers perfect for flat-screen televisions
The influx of flat-screen televisions across the globe has liberated millions of living rooms from the occupation by big black-box TV sets. But while wall-hung televisions feature a high-quality picture, their sound can leave something to be desired at times. Until now. The release of the Tangent E5L loudspeaker puts an end to this dilemma.
These two-way bass reflex stereo speakers are designed to match both the performance and form of flat-screen televisions. Vertically flanking the LCD or plasma screen of the customer's choice, the Tangent E5L speakers provide a powerful sound performance to enhance the attractive images the television presents.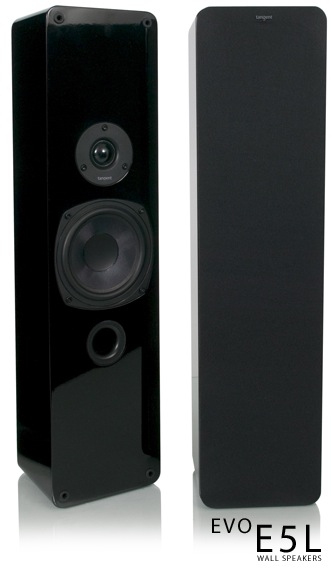 "We have all experienced modern televisions where the sound unfortunately resembles the front glass: it is completely flat. The Tangent E5L does justice to the great work done by the content producers by faithfully reproducing sound as it was intended to be heard," says Torben Kristensen, Product and Sales Manager of Tangent.
Performance
The full-range of sound produced by the Tangent E5L emanates from the carefully-selected driver units: a 5″ magnetically-shielded woofer and a 1″ soft-dome neodymium tweeter. Both driver units have been selected to function perfectly within the vented cabinet, featuring a front-firing bass port. The passive loudspeaker features a low impedance, and can be used with an amplifier ranging between 10-150 watts. Frequency response reaches as low as 52 Hz, adding low bass effects to the user's listening experience.
Sizes match
Physically, the 58cm height of the E5L speaker is a proportional match to the size of the most sold screen sizes on the market today, according to Torben Kristensen.
"We believe this loudspeaker solution will cover the need for screen sizes from 32″ and up, and if you have a smaller screen we also have the E4L loudspeaker, which is only 40 cm high" says Torben Kristensen
True stereo
Unlike single-cabinet surround sound systems that utilise simulated stereo to create an enveloping sound, the Tangent E5L offers a true stereo experience. The natural distance between them, combined with the deep lows and sharp highs the speakers produce, create an appealing, true stereo sound experience.
Usage with subwoofer
For film fans, connecting a pair of Tangent E5L speakers with a Tangent EVO E8 2.1 subwoofer creates an even greater soundscape. The low-frequency effects channelled to the subwoofer add an extra element of sound to the viewer's favourite Hollywood classic. Connecting to form a E8 2.1 solution is quick and easy. Just tap into the sound output already provided by the television's headphone out jack, and connect it to the E8 via a standard cable. You've now effortlessly created an integrated solution for sound and picture, utilising the television's remote control to adjust the sound coming through the Tangent speakers.
Available now
Tangent E5L speakers are available in high-gloss black and high-gloss white, colours which fit into virtually every interior decor.
Technical specifications
| | |
| --- | --- |
| System | 2-way basreflex |
| Recommended Amplifier | 10-150 watt |
| Tweeter | 1″ (25mm) Softdome, neodymium |
| Woofer | 5″ (130mm) shielded |
| Impedance | 4-8 Ohm |
| Frequency range +/- 3 dB: | 52Hz – 20KHz |
| Delefrekvens | 2.500Hz |
| Sensitivity (2,83V / 1M) | 88dB |
| Terminal type | Binding posts |
| Dimensions (HxWxD) | 580 x 145 x 120mm |
About Tangent
Tangent was established in the 80's by a group of dedicated hi-fi enthusiasts. Within a few years, innovative designs established the company as a major specialist loudspeaker manufacturer. Consistently, its products were highly recommended by respected hi-fi reviewers both from the United Kingdom and beyond. Tangent has shown that fundamentally correct design can produce a product capable of achieving excellent performance at an affordable price. Tangent is a registered trademark.