Swiss watchmaker TAG Heuer is introducing a luxury smartphone named the TAG Heuer LINK. Swiss-engineered, French-built, and powered by the Android 2.2 operating system, it shares the core values of every breakthrough TAG Heuer creation: advanced design and materials, peerless handassembled and finished craftsmanship, unsurpassed reliability, and a total commitment to the avant-garde.
The first luxury smartphone with a tactile screen, it is also the first equipped with upgradeable Google Android software, meaning unparalleled access and connectivity. Android's ability to switch quickly between applications brings incomparable multitasking power, making the TAG Heuer LINK one of the fastest phones on the market: menus open at lightning speed, tabs are super responsive, web pages load with virtually no lag time, and access to news and weather widgets and Skype messaging is instantaneous. A superlative design object and a powerful resource, a pleasure to hold and delight to use, the TAG Heuer LINK is essential equipment for adventurers, sportsmen and business executives. With it, a world of exclusivity and prestige is, literally, at your fingertips.
The TAG Heuer LINK, the world's first Swiss-engineered smartphone, enriches the offer even further. Unlike anything else on the luxury market, the TAG Heuer LINK is a high-performance machine of unprecedented functionality. Extreme reliability and robustness are guaranteed through a battery of quality tests well exceeding industry standards. Stand out features include lightning-fast connectivity, 1 GHZ of processor, 16-million color screen resolution, a large 3.5″ display, a high-definition 5-mega-pixel auto-focus camera, 11 hours of music play time, and, through its avant-garde Android operating system, download access to over 250,000 applications. It also comes fully loaded with a host of TAG Heuer add-ons: customized screen designs, widgets, animations, wallpapers, icons and ring tones.
The TAG Heuer LINK is instantly recognizable as a top-end TAG Heuer product, avant-garde both for its ergonomic design and its very contemporary elegance. Motion, purity, curve, precision, a shimmering dynamism in its form and silhouette — these are its signature values.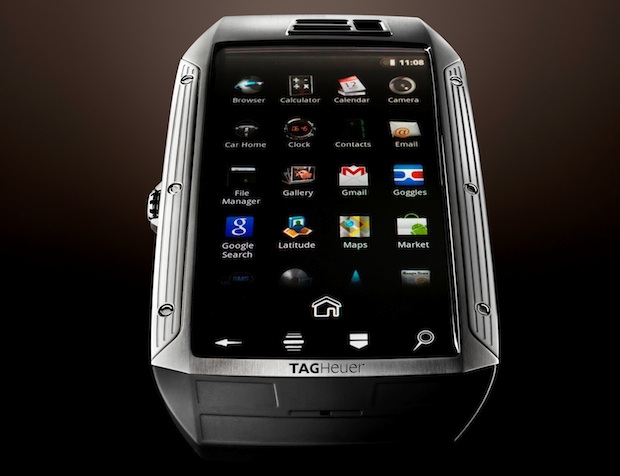 The luxury handset is composed of classic watch components and cutting-edge technology. Fully shockproof, the body is engineered like the case of a TAG Heuer watch. As airtight and locked-down as a strong box, it provides full protection of the precious contents — your videos, photos, files and data — sealed in its interior.
Other signature TAG Heuer references include the screws on the handset's reinforced chassis, which echo those on the casebacks of TAG Heuer chronographs. The unique autolock system on the side, which gives quick access to the SIM card, the connection port and the memory card, sports the TAG Heuer's shield in black lacquer and looks like a classic TAG Heuer timepiece crown.
Luxuriously crafted and detailed, the TAG Heuer LINK incorporates the most prestigious materials and advanced components in the watchmaking and automotive worlds, including black PVD, diamonds and rose gold. The mirror-polished and fine-brushed stainless steel is premium grade surgical 316L, corrosion-resistant and hypoallergenic. The big display front is made from visually stunning, lightweight, and highly damage-resistant Gorilla glass. The exclusive, hand-worked coverings are in calfskin, alligator or lizard. Every material, precious stone and exotic skin or leather is sourced within the strictest industry standards.
Price and Availability
The TAG Heuer LINK Luxury Smartphone will be available in exclusively in TAG Heuer retailers in July 2011 for $6,800.
Related:
TAG Heuer's first cell phone, the MERIDIIST launched in 2008.