TAG Heuer Launches a Fun, Innovative Viral Marketing Campaign for its Luxury Phone

The viral marketing campaign developed for Meridiist, TAG Heuer's luxury telephone, is a true revolution in quality. With an innovative design, it gives Internet users the opportunity to win a customized Meridiist.
This campaign, centred around a short film written and filmed by director Pierre Morel – a member of Luc Besson's circle – gives viewers the chance to enjoy a fun and unique experience based on a prestige product.
The website http://www.tagheuer.com/meridiist puts users into the director's chair, allowing them to select takes and scenes of their choice in order to try to win a Meridiist. They are then asked a series of questions about the film and the product in order to increase their chances of winning the luxury phone.
The site also has bonus pages on the making of the film, a photo gallery, and the Meridiist's features.
"This device marks a true revolution in luxury communications", says Steve Amstutz, TAG Heuer's Managing Director of Communications. "By uniting the look of a feature-quality film with the purpose of a viral marketing campaign, TAG Heuer solidifies its status as a cutting-edge brand and enables Meridiist to stand out in a way that goes beyond its design and innovative features."
At 28 hours on standby and 7 hours of talking time, Meridiist is without question the longest-lasting phone on the market. The second screen, ideally located on the phone's top side, lets you view the time, set up a 1/100th-second precision stopwatch, and discreetly check incoming calls.
Director Pierre Morel has managed to combine the essence of Meridiist, design and performance, with the magic of a contemporary love story.
TAG Heuer MERIDIIST Features and Specifications:
'Time in your hand' with specific time unit dual display patented design:
This exclusive design for one-of-a kind personality integrating watch inspired features performs several functions, such as reversible clock, 1/100 of a second chronograph and incoming call identification. A special OLED technology (Organic Light-Emitting Diode) protected by a sapphire crystal glass contributes to this innovating design. This dual display offers the user a new level of refinement in their manner of viewing the time and addressing incoming calls.
Outstanding autonomy:
Exceptional autonomy up to 28 days standby time and 7 hours talk time will provide comfort of use of the highest quality. Every single electronic component has been scrupulously selected by our engineers to optimize the output of the long duration Li-Ion battery.
Multi function TAG Heuer switch:
As a distinctive touch, the Meridiist features a dual-function TAG Heuer switch, designed for the needs of the executive in important meetings: with a touch of this switch a polite call rejection process is issued; it also illuminates the unique time display mounted at the top of the Meridiist, and switches the direction from which the time can be viewed or launches a 1/100th of a second chronograph (lap time or split time).
Decorative back cover:
For a personalisation of each handset, a great choice of rubber, calfskin leather and genuine alligator is proposed. Genuine alligator leather sourced exclusively from breeding farms is cut, sewed by highly qualified craftsmen. A tailor-made manufacturing process, derived from watch strap technology is used. The delicate stitching gives the final refined touch. Each decorative leather or rubber is selected and tested to resist to environment as well as mechanical stress.
Concealed digital camera (picture and video):
High quality (CMOS low noise) digital camera links human gesture to technology through mechanical refinement. A software maximizing the image quality & color rendering has been specifically developed. MERIDIIST has a 2 megapixel camera sensor (1 200 * 1 600 pixels) for standard photo size 10x15cm quality print and 2GB memory which enables to store more than 5000 pictures. A mechanical camera sliding shutter triggers automatically the preview mode.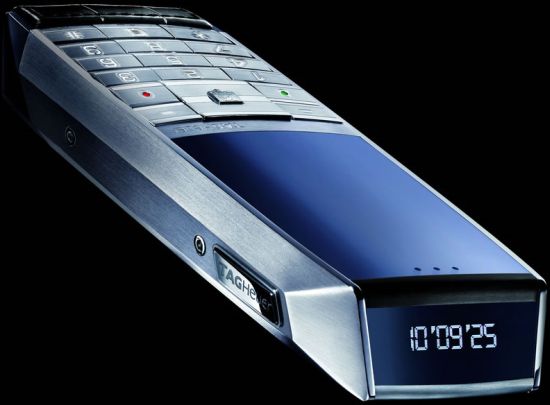 Design and finishing
316L stainless steel case with hand brushed and polished finishing
Black PVD – Titanium carbide coating on 316L stainless steel
Backlit mechanical stainless steel keypad
Multi function TAG Heuer switch
60.5 carats of sapphire crystal glass on dual display screens
High quality rubber, calfskin leather and genuine alligator back plates
Dimensions: 112mm x 46mm x 15.5mm
Weight: 155g
Performance
Autonomy: 28 days stand-by time, 7 hours talk time
Imaging: 2 mega pixel high-quality camera sensor
(CMOS low noise) digital camera: 1,200 x 1,600 pixels
Image quality-maximising and colour rendering software
Mechanical, automatic preview-triggering sliding camera shutter
Image formats supported: JPEG, GIF, BMP
Audio: Music playback (MP3, AAC, AAC )
Video: Video recording and playback
End-user memory: 2GB
USB 1.0 with mass storage for easy multimedia objects exchange with PC
Network: Worldwide GSM/GPRS network-compatible for best performance
Quad-band: covers all GSM countries
Hardware
2 LCD screens
Front screen: LCD, 240 x 320 pixels, 260k colours, TFT — 1.9″
Top screen: OLED, 96 x 16 pixels
Acoustics: separate earpiece for call mode, loudspeaker for handsfree, ringtones and music playback
Long duration battery: Li-lon 950mAh
Applications
Phonebook: up to 1,000 contacts (multi-entries, Lotus Notes and Outlook synchronisation)
Messaging: SMS, MMS
Browsing: WAP 2.0
PC synchronisation: contacts, messaging, multimedia
Apps: World clock, alarm, agenda, calendar, currency converter, chronometer, calculator
Voice recorder
Client e-mail
Connectivity
Bluetooth: headset, car kit and data exchange profiles
Single I/O connector for charging, data exchange
and wired stereo headset via standard mini-USB
Stereo Bluetooth for audio with compatible devices
USB connection
Built-in modem
Compatible with any operator/SIM card
About TAG Heuer
TAG Heuer, the global leader in prestigious sports watches and chronographs since 1860, is currently the flagship brand of timepieces of the world's number one purveyor of luxury goods: the LVMH group. TAG Heuer is the first watchmaker ever to master luxury chronographs with an unsurpassed precision of 1/10th, 1/100th and 1/1,000th of a second.