Stem Innovation announced Time Command Mini, a compact alarm dock and audio system for iPad, iPhone and iPod touch users, enhanced with features from the free Stem:Connect App. It is a smaller version of their Time Machine (photo below) audio alarm dock released last year. Both models play audio from and charges iPad, iPhone or iPod. The Stem:Connect App provides calendar-based alarm scheduling, LED display brightness controls, local weather and forecast information and much more.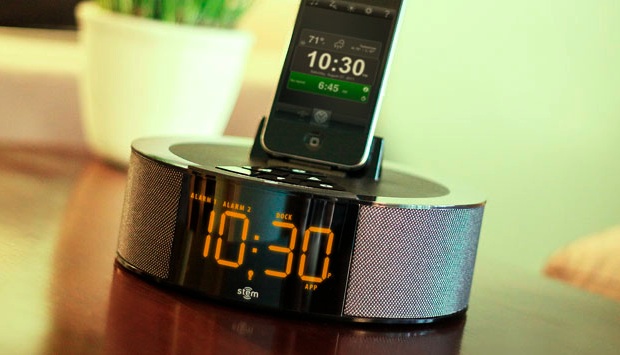 Time Command Mini and the Stem:Connect App provide SafeWake features to ensure that you wake on time. Time and app-set alarms are automatically transferred from your iPod touch, iPhone or iPad to the hardware when you dock. The unique, pivoting dock connector supports devices in or out of most protective cases to make docking easier than ever. The curved LED is fully dimmable using buttons on the clock or within the app.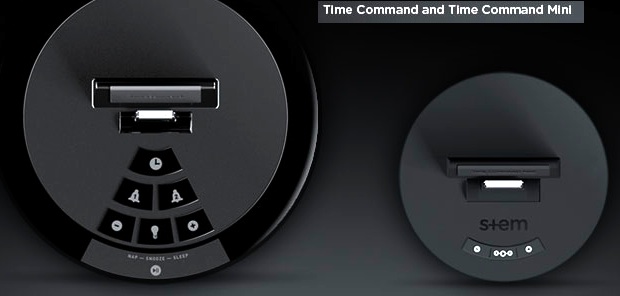 The Time Command and Time Command Mini are precisely tuned audio system with proprietary Sonic iQ technology. Play audio from your iPad, iPhone or iPod touch, listen to free Internet radio stations, wake to your choice of alarm tones or drift off to sleep while listening to the included relaxation sounds.
Price and Availability
Both products are available at steminnovation.com and in Apple retail stores in the U.S. and Canada:
See more about: Newest iPod Docks, Speaker Docks, iPad Docks