Stealth Acoustics has released the LinearResponse (LR) Series of invisible in-wall or in-ceiling speakers. The new models include the LR3, LR6, LR8 and SLR8. They maintain the same basic model alignments of the previous FX and AX lines, only with dramatically enhanced sonic performance. Building upon proven custom carbon-fiber motor and cone woofer technologies, Stealth Acoustics has created a new invisible speaker line that enhances fidelity, high-frequency smoothness and bass performance over previous offerings, while streamlining installation practices.
The LinearResponsetm (LR) Series speakers incorporate an all-new face-panel material which provides a flatter front surface area eliminating the need for plaster or fill materials to be placed on the face-panel prior to final finishing with normal paint, wallpaper or other previously supported finishes. The new versions also greatly improve the audio response characteristics of Stealth Acoustics' invisible speakers, by providing a warmer-sounding high frequency response and more bass output.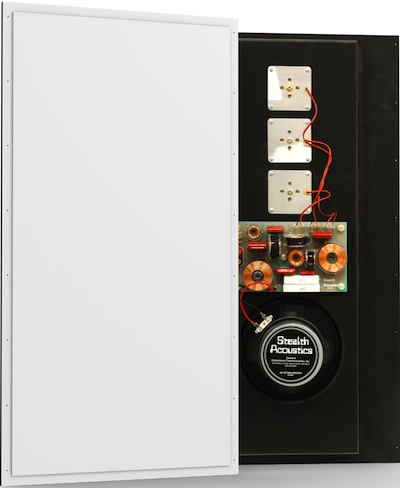 LR3 – Full Range, 3-way
The LR3 – flagship of the Stealth Acoustics line of full range speaker systems – achieves a level of audio performance rivaling that of superior visible speakers. The LR3 is a 3-way system utilizing three high-power neodymium motors and a high power 8″ conventional woofer. The woofer fires into an air tight chamber creating an acoustic lever, activating the 16″ x 30″ panel for low frequencies. The neodymium motors are bonded to carbon fiber transmission plates behind the panel face — one for high frequencies and two for midrange frequencies — configured in a manor that creates our Balanced Drive Midrange.
The result is a surprisingly well behaved and articulate invisible speaker system with solid lows, crisp high frequency response and a midrange that has penetrating punch.
LR8 – Full Range, 2-way
Perfect for whole house audio, home theater and surround applications, the LR8 is an 8″ two-way, full range loudspeaker system. The LR8 utilizes a high-power woofer and a single neodymium high frequency section in a panel measuring 16″ x 22″. As with all Stealth Acoustics speakers, the LR8 is equipped with a heavy duty crossover that includes protection circuits on both the high and low frequency sections to prevent damage from excessive power.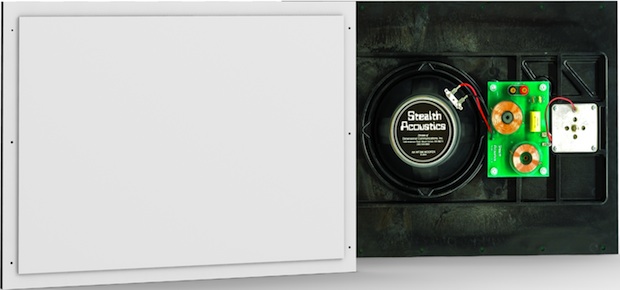 LR6 – Full Range, 2-way
The LR6 is our smallest footprint full range loudspeaker system, ideal for lower level background music, secondary listening locations and light-duty surround sound applications. The LR6 utilizes a high powered 6″ woofer and uses the same highfrequency components as the larger models. Panel size is 16″ x 12″. The LR6 will provide an excellent audio solution where space limitation is a factor.
SLR8 – Single Panel Stereo, 2-way
The Stealth Acoustics SLR8 is a unique single panel stereo speaker system with the same footprint as a single LR8 (16″ x 22″). The SLR8 utilizes a dual voice coil, high-power 8″ woofer and two neodymium high frequency elements, and the independent channels are totally isolated with separate heavy-duty crossovers. The SLR8 provides quality stereo coverage in small rooms such as bathrooms and corridors.
Additional Products
Two invisible in-wall subwoofers (B22 and B30), a subwoofer amplifier (255R) and an 8-channel power amplifier (8400) round out the Stealth Acoustics line-up.
B22 Subwoofer
Small but powerful, the B22 subwoofer system is a compact version of the larger B30 and is designed to complement the LR series speakers when used in whole-house audio systems where extra bass output is desired. Sold in pairs, each B22 panel contains one acoustically coupled, high-quality, high-power 8″ cone woofer. Pair the B22 with the LR6, LR8 or LR3 to extend frequency response in any room.
B30 Subwoofer
The B30 is a two-panel invisible subwoofer system. Using Stealth's Acoustic Lever technology, the B30 system provides exceptional bass output from 20Hz to 160Hz. Ideal for surround sound, foreground music or whole-house audio systems that need extra bass output, each B30 panel incorporates two acoustically coupled, high-quality, high-power 8″ cone woofers. The panels are designed to work in pairs as a monaural output subwoofer, but can be used independently (parallel mode). The B30 panels may be mounted adjacently, stacked or split to achieve desired acoustical results. A simple configuration jumper offers either 16 ohm or 4 ohm operation of the panel, allowing for a wide range of power amplifier configurations,.

8400 8-channel Amplifier with DSP
The Steal Acoustics 8400 is an integrated eight-channel amplifier/speaker optimization system designed as a low distortion power source for Stealth Acoustics invisible speaker panels or other unpowered speakers. The 8400 delivers 80 watts per channel into 8 ohm. The adjacent channels are bridgeable to create 160 watts. The 8400 contains built in DSP optimization for the LR series and the B30 subwoofer allowing the Stealth Acoustics speakers to maximize their performance potential in any setting. This compact powerplant is designed to run cool and clean and is the perfect solution to achieving invisible, full-range, whole-house audio.
255R Subwoofer Amplifier
A perfect complement to the B-series invisible subwoofers, the 255R is a high quality integrated monaural amplifier / crossover system designed as a high-current, low distortion power source for Stealth Acoustics invisible subwoofer panels or other un-powered subwoofer speakers. The 255R delivers a solid 250 watts into an 8 ohm load and 350 watts into 4 ohm. A variable low pass, 18 dB per octave filter allows for infinite crossover points from 50Hz to 150Hz and can be bypassed for full-range amplification applications. With a full complement of input and output connectors, the 255R is easily integrated into any audio system.
Reviews Around the Web:

stealth acoustics linearresponse