Stealth Acoustics is finalizing the manufacturing process for the much-anticipated SA8400 multi-channel amplifier. The sleek, digitally powered amplifier will be Stealth Acoustics' second foray into power plants, the first being the highly successful 255R subwoofer amp.
Designed to play a central role in Stealth Acoustics' new "full-range whole house audio" campaign, the SA8400 will allow the user to experience awesome versatility and impeccable sound quality without breaking the bank. Easy to use as well as easy on the eyes, this amplifier will be a very welcome addition to this product line.
Constructed with high quality components and designed and use this equipment daily, the SA8400 will surely become one built from the ground up by the engineers who also of Stealth Acoustics' most popular items.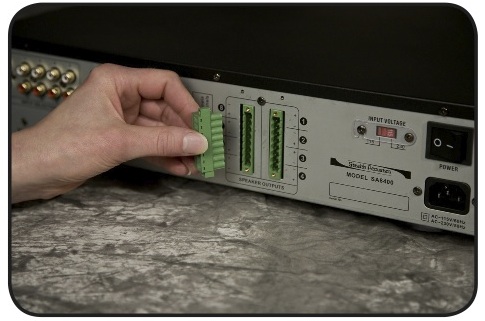 The SA8400 will feature:
80 watts at 8 ohms <0.3 THD x 8
160 watts at 8 ohms <0.3 THD two channel bridged
THD <0.05 @ 1 watt, 4 ohms/100Hz
Phoenix type speaker terminals
Fixed low-pass filter for subwoofer operation
Adjustable delay for individual channels
Removable rack mount brackets
EQ preset optimization for the Stealth product line
Bass and treble tone controls for each channel
Volume control for each channel
Mute control for each channel
Common-bus line level inputs
IR controllable
Input bus assignment control for each channel
Update
Stealth Acoustics is readying the release of the much-anticipated 8400 multi-channel amplifier. The 8400 is slated for sale and will be shipping July 1, 2010.