Sony XAV-70BT
Sony's Top-of-the-line Double DIN Touchscreen DVD Head Units With HD Radio
Sony just introduced two new in-dash A/V centers featuring some of the brightest and sharpest displays in market and a pair of new head units, including Sony's first to offer HD Radio integration.
Designed to offer unmatched quality and high style in car audio and video, these products provide a variety of solutions for in-car connectivity, convenience and entertainment.
Sony's flagship XAV-70BT in-dash A/V center features a high quality 7-inch WVGA motorized panel display that offers one of the brightest and highest contrast screens available in market today.
Additionally, the model features a brand new, intuitive and stylish graphical user interface (GUI) that includes large, easy-touch buttons, simple setting menus, and a music playback screen that displays all song metadata and album artwork.

Sony XAV-70BT
On the audio front, the new XAV-70BT model features multi-channel playback with Center Speaker Organizer (CSO), creating virtual 5.1 channel surround sound throughout the car. The high-end A/V center also features Sony's unique SensMe™ music software, which utilizes 12-tone analysis technology to create custom music playlists and personal radio channels from a connected music library. Additionally, the Advanced Sound Engine (ASE) combines several of Sony's modern audio technologies to provide incredible sound environment for control.
The XAV-70BT also has a rear USB input for simple connection to iPod, iPhone and other digital media player, and has fully functional Bluetooth technology built-in, allowing for hands-free calling and wireless music streaming.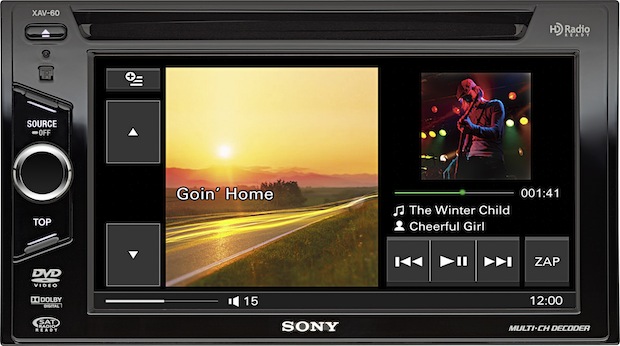 Sony XAV-60
With the same feel as the high-end unit, Sony's new XAV-60 A/V Center features a 6.1 inch high-quality WVGA screen. The model also features the new, user-friendly GUI, SensMe custom music and moods channels and virtual 5.1 channel surround sound during video play back. It also has a rear USB-1 input for connection to digital media players.
Both models have the same feature set, except the XAV-70BT adds Bluetooth hands-free calling, an extra 4-volt pre-out and has the larger screen (with motorization). In addition the manual buttons are at the bottom as opposed to the left side of the unit.
The XAV-70BT will be available this April for about $750, and the XAV-60 will be available this March for about $550 online at sonystyle.com as well as all authorized retailers nationwide.