1080p HD High Frame Rate SXRD Home Cinema projector. Contrast ratio 120,000:1, BRAVIA ENGINE 2, Motionflow Dark Frame Insertion, Advanced Iris 3
Today, Sony has announced the launch of its new BRAVIA VPL-VW85 SXRD home cinema projector, bringing a true cinematic experience into the living room. This flagship projector offers fine-grained Full HD 1080p picture quality coupled with a great stylish look and feel.
"The VPL-VW85 is the direct successor of our VPL-VW80 model and we have built in additional features that deliver a true cinematic experience", says Tak Nakane, Marketing Manager at Sony. "This means real quality plus fine control where it matters, perfect for the home cinema enthusiast keen to upgrade to HD or improve an existing HD setup — and who wants to do it properly."
Superb cinema picture quality
At the heart of the VPL-VW85 is Sony's High Frame Technology 3SXRD™ panel. This technology doubles the number of images displayed on the screen per second, enabling fluid, natural movement no matter how fast the action gets. Sony's BRAVIA technology and all new Advanced Iris 3™ enable an exceptional contrast ratio of 120,000:1. In Cinema Mode, films can be viewed as close to the as possible, reproducing details such as natural skin tone, lighting, colour, and contrast. The viewer can also choose between 3 Cinema Modes to truly experience the original director's cut. The VPL-VW85 also has an "Anamorphic zoom" mode, which makes it possible to create a full 2.35:1 image ratio by pairing it with an anamorphic lens.
Seamless installation
To allow for straightforward installation and integration into existing home cinema system, the VPL-VW85 has a motorised, fully adjustable, 'lens shift' function that offers more options in terms of installation and projector placement, without any image distortion. To complement this, the lens offers a 1.6x motorised zoom with horizontal and vertical adjustment making it easy to set up in a variety of environments. To keep the lens in perfect condition, it has a built-in motorised cover which automatically opens when the power is turned on, and closes again at power-down, keeping dust off the lens.
Easy to use
HDMI™ CEC technology also allows control of multiple devices from a single remote through a feature called BRAVIA Sync. The One Touch Play feature lets a user insert a disc into the player and by simply pressing "play" on the projector's remote, have the whole theatre system, including the projector, power up automatically and the film start. In the same way, System Stand-By shuts down all HDMI-connected elements of the system at a single press of the Power/Standby button on the remote.
"Each feature of this projector is impressive enough in its own right," says Tak Nakane, Sony Marketing Manager. "But it's what happens when you bring them all together that really matters. Everything works together to give viewers the detail of Full HD with the clarity and smooth motion that are the hallmarks of a truly cinematic experience."

The BRAVIA VPL-VW85 is the centrepiece of the Sony BRAVIA HD Home projector range. Offering Full HD for superior image quality, it integrates flawlessly into the existing home cinema environment and gives home users the true cinematic experience.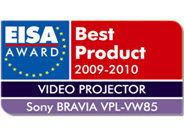 EISA Award Winner — EISA Citation
"Seeing is believing' says Sony, and that has never been more true than with the new BRAVIA VPL-VW85. Using three latest generation SXRD panels with 1920×1080 pixels each, it produces smooth and crisp High Definition images. In conjunction with a revised dynamic iris control, these deliver a stunning in-picture contrast, resulting in lifelike and rich images of previously-unseen depth and clarity. Sony's unique Motionflow algorithm has also been updated and offers the right mode of motion compensation for every source material and viewer's taste, including the option to insert black frames for a really cinema-like presentation. The combination of all these technologies results in a picture performance that sets new standards in the home theatre experience."
Price and Availability
The VPL-VW85 will be available in October for about $8,000, and will be offered direct at Sony Style retail stores nationwide and authorized installation dealers around the country.