The Sony Vegas Movie Studio HD Platinum 10 is an easy-to-use, full-featured video editing application that provides the tools to create professional-looking high-definition projects, as well continued support for standard-definition media. Powerful new tools such as image stabilization, GPU accelerated rendering, slideshow creator, expanded color correction tools, DVD burning from the timeline, enhanced device explorer, and Blu-ray authoring, now offer expanded ways to deliver stunning projects. Vegas Movie Studio HD Platinum 10 includes many new features including:
Image Stabilization: Users with "shaky" video footage, commonly shot from handheld, pocket and mobile phone cameras, now have the ability to quickly stabilize their files using several optimized presets. Image Stabilization uses technology from ProDAD, a leading provider of video effects plug-ins.
Slideshow creator: This new feature simplifies the creation of slideshows made from still images. Designed with ease of use in mind, the Slideshow Creator allows users to quickly create pan/zoom effects and transitions across a set of images, and provides the ability to create a dynamic slideshow from a set of images with only a few simple clicks.
Increased Number of Tracks: Vegas Movie Studio HD Platinum now allows up to 10 video tracks and 10 audio tracks so content creators can utilize more tracks for organizational options, or to embrace more complex projects and compositing techniques.
New color correction tools: These tools provide users with the ability to rapidly fix video originally shot with incorrect color levels. The new White Balance tool can be used to determine what "white" should look like within a video clip. The entire clip is then automatically color adjusted to match. Seasoned editors can also use the Secondary Color Corrector tool for more advanced color modification.
GPU-accelerated AVC Rendering: Vegas Movie Studio HD Platinum can now use the Graphics Processing Unit (GPU) in equipped computers to improve AVC rendering performance and speed, which allows final projects to be published faster than ever before. Users with a CUDA-enabled NVIDIA video card are able to encode to the Sony AVC format using GPU-accelerated rendering.
Device Explorer: An all-new Device Explorer window allows users to quickly browse the contents of AVCHD, hard disc and Memory Stick devices, creating more efficient ways to retrieve and edit content.
DVD Burning Direct from Timeline: In addition to delivering projects via Blu-ray discs, traditional file based hard disk and streaming media formats, users can now burn a DVD disc directly from the timeline to quickly author simple menu-less discs, providing a quick and cost-effective distribution option.
Vegas Movie Studio HD Platinum 10 Production Suite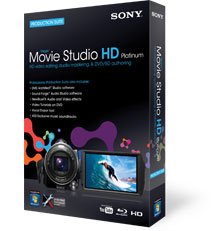 In addition to Vegas Movie Studio HD Platinum 10 software, the Production Suite features additional applications to help add even more polish and originality to video projects. The Vegas Movie Studio HD Platinum 10 Production Suite includes DVD Architect Studio 5, Sound Forge Audio Studio 10, Vocal Eraser technology, NewBlueFX audio and video effects, a tutorial DVD and 400 exclusive original music soundtracks.
Price and Availability
The Sony Vegas Movie Studio HD Platinum 10 (MSRP U.S. $99.95) and Vegas Movie Studio HD Platinum 10 Production Suite (MSRP U.S. $129.95) are now available in English, Japanese, French, German and Spanish. Upgrade pricing for existing users of any of these applications are available via download from Sony Creative Software's website.