Sony announced the 16-megapixel Alpha SLT-A57 interchangeable lens (A-mount) digital camera with translucent mirror technology, 12 fps shooting, Full HD (60p) video capture and new auto portrait framing. It replaces the Sony Alpha SLT-A55 camera.
The innovative Translucent Mirror design directs incoming light to the CMOS image sensor and the AF sensor at the same time, allowing full-time continuous AF during both still and video shooting. Users can also frame, focus and preview shots in real-time on the high-resolution Tru-Finder electronic viewfinder, which offers a wide viewing angle and 100% field of view. This allows photographers to capture exactly what they see on the screen.
With the α57 camera, shooting speeds of up to 12 frames per second are achieved in new Tele-zoom Continuous Advance Priority AE mode, maintaining continuous auto focus and auto exposure with fixed aperture. Magnifying the central portion of the sensor's image by 1.4x, it's perfect for capturing split-second action close-ups with a burst of sharply focused images, even when the subject is moving. In this shooting mode, aperture is fixed at either f/3.5 or the maximum aperture of lens in use (whichever is smaller) and image size of photos is about 8.4 megapixels.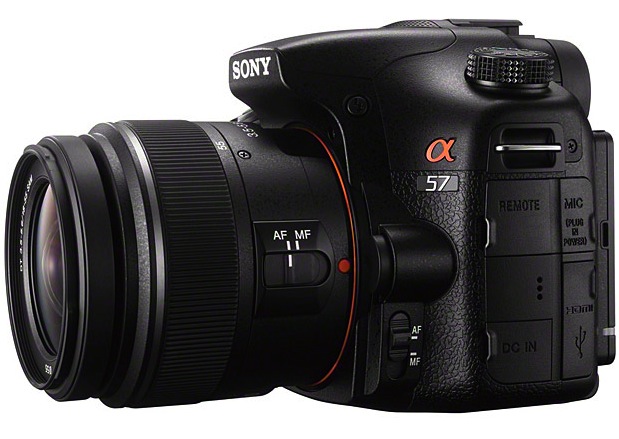 Additionally, the α57 camera lets people create powerfully expressive Full HD movies. Responsive full-time continuous phase detection AF ensures that moving subjects stay sharply focused, just like with still shooting. Support for the AVCHD Ver. 2.0 (Progressive) format means that Full HD resolution movies can be captured with 60p frame rate: ideal for capturing smooth, blur-free action. Shooting in 24p is also available to give footage a rich, cinematic look. Movie-making options are enhanced further with full control over P/A/S/M shooting modes for virtually limitless creative expression.
The α57 model shares the α65's 15-point AF system with three cross sensors delivering fast, accurate TTL phase detection autofocus. Newly enhanced Object Tracking AF keeps faces or other selected objects in sharp focus — even if a target is obscured momentarily by another passing object.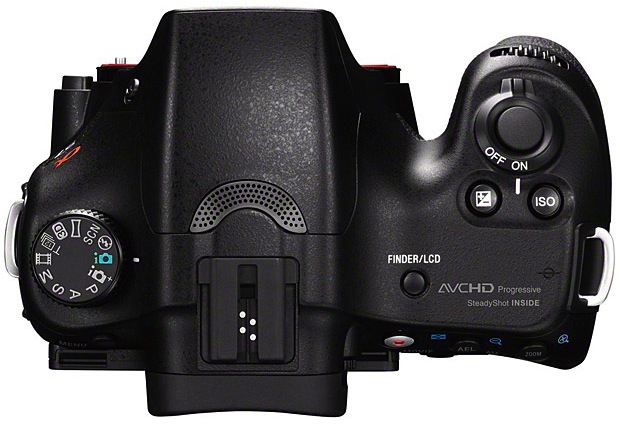 Even the novice photographers can now easily create pro-style portraits with the a57 thanks to new Auto Portrait Framing, a world's first technology. Using face detection and the compositional 'rule of thirds,' the camera identifies a subject's position, trimming the scene to create tightly framed, professional-looking pictures in portrait or landscape orientation while maintaining a copy of the original image. Saving both the original photo plus the adjusted version allows for easy comparison between the two images, offering photographers inspiration to refine their portrait skills.
To get closer to the subject, 2x Clear Image Zoom digital zoom technology doubles the effective magnification of your lens and is a highly practical alternative to travelling with a bigger, bulkier telephoto lens. The camera uses Sony's "By Pixel Super Resolution Technology" to ensure that cropped and zoomed images retain full pixel resolution.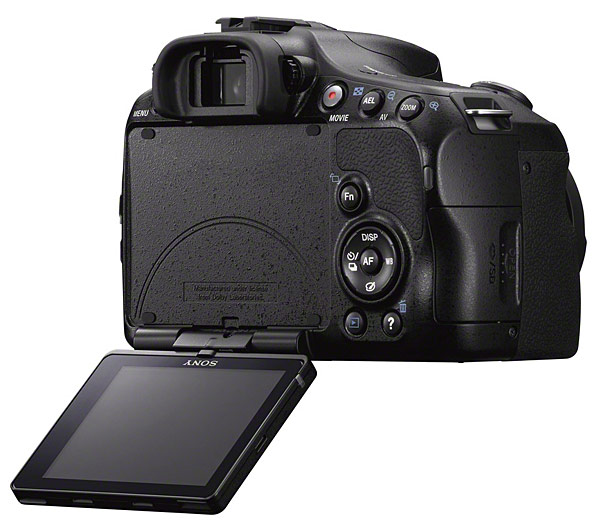 Additionally, the model's range of popular in-camera Picture Effect modes includes 11 different effects and 15 total variations — offering a generous palette of 'PC-free' artistic treatments, including Pop Color, HDR Painting, Miniature Mode and much more. Results can be previewed directly in live view mode on the LCD screen or in the new Tru-Finder electronic viewfinder while shooting either Full HD video or stills.
Still and video shooting, framing, focusing and real-time preview of exposure adjustments are a pleasure with the new Tru-Finder electronic viewfinder. With ultra-detailed 1440k dot resolution and a 100% field of view, it rivals quality optical viewfinders. There's a choice of selectable high-resolution information displays with a wide viewing-angle to help consumers shoot with confidence, including a digital level gauge and framing grid. Information can be displayed either directly in the viewfinder or on the angle-adjustable 7.5 cm (3.0-type) Xtra Fine LCD display.
Ensuring detail-packed images, the 16.1 effective megapixel Exmor APS HD CMOS sensor is teamed with a latest-generation BIONZ engine. Refined by Sony during the development of its flagship SLT-A77 and high-end SLT-A65 cameras, this powerful processor effortlessly handles large amounts of image data for flawless, low-noise images and Full HD video.
Thanks to the BIONZ processor, creative shooting opportunities are boosted by an outstanding sensitivity range of ISO 100-16,000. Users will experience consistently natural, low-noise images — whether shooting at fast shutter speeds to freeze dynamic action or handheld without flash in low light.
Pricing and Availability (April 2012)
$700 → Sony SLT-A57 for body only
$800 → Sony SLT-A57K with 18-55mm kit zoom lens
Sony will also be introducing a new battery-powered LED video light, model HVL-LE1, which broadens options for recording video indoors or in low light. This new accessory will be available this month for about $250.