Wireless, full-color Controller features capacitive touch screen for state-of-the-art music control throughout your home
Search, find, play and discover a world of music at the touch of a finger
Available beginning today for $349 suggested retail price
Sonos, Inc., the leading developer of wireless multi-room music systems, today launched a state of the art music Controller for the home, the Sonos Controller 200 (CR200). The new full-color Sonos Controller features an ultra-responsive touch screen display making it easy to quickly find and play all the music you want, in any room of the house, and all with the touch of a finger.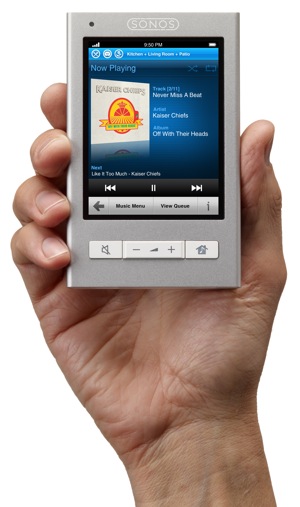 "Finding and playing music all over the house needs to be so easy that anyone who walks into a home can pick up the Controller and start playing DJ," says John MacFarlane, CEO, Sonos, Inc. "Sonos has applied our seven years of experience designing wireless music systems for hundreds of thousands of customers in more than 60 countries to deliver the most innovative and intuitive way to find, play and control music anywhere in the home."
The Sonos CR200 is 100% dedicated to providing a great music experience throughout your home so everything — from the hardware and industrial design to the software and user interface — works together to make controlling the Sonos system fast, easy and fun. The Sonos CR200 features a 3.5″ full-color VGA display (640×480 pixels) and comes with a capacitive touch screen for accurate and responsive operation. The convenient touch screen keyboard enables rapid search of the world of music, including multi-million song jukeboxes (Napster and Rhapsody), more than 25,000 radio stations and podcasts, SIRIUS Internet Radio, and of course, your own personal music library. It also makes the creation of custom radio stations from services like Last.fm and Pandora incredibly easy. The quick intuitive interface provides rich graphics that display what music is playing and in what room all while making it a pleasure to view artist information, cover art and more. The CR200 is styled with an anodized precision machined extruded aluminum case and soft durable rubber backing that fits comfortably in your hand. The CR200 includes ships with the Sonos Charging Cradle 200 so it's always easy to find and charge your Controller.
Other Sonos Controller 200 features include:
Easy set up — A few simple steps are all that's needed to get Sonos up and running using the new Controller.
Instant on — Pick up the Controller or touch the screen and it's instantly ready to play music.
Dedicated buttons — Mute, Volume and Zones buttons provide shortcuts to the most often used functions.
Quick, intuitive search — Instantly find the artist, song, radio station, or radio show you want to listen to by typing on the on-screen keyboard. Suggestions are provided as you type.
Superior wireless performance — The CR200 works on SonosNet (Sonos' proprietary mesh network) ensuring that you get the best wireless performance of any wireless music product on the market with no interference.
Easy zone management — Take music with you as you move through the house by linking rooms with ease (and without interrupting music playback).
Multi-room volume control — Change the volume in a single room, or in several rooms, all from the same screen.
Great for using outdoors — The CR200 features a transflective screen, making it easy to use while listening to music outdoors on a sunny day.
Long-life and replaceable battery — Comes with a high capacity lithium ion battery that gets about five days of usage between charges and can easily be replaced.
Compatible — The CR200 is compatible with all existing and previously purchased Sonos Multi-Room Music System hardware.
Also today, Sonos Software 3.0, a one-button software update, was made available to all Sonos customers. Sonos 3.0 brings new music discovery tools to the Sonos multi-room music experience when using the Sonos CR200 or Sonos Controller for iPhone — Info View. This new feature provides one-touch access to rich music information, like artist bios, album reviews, concert listings, and lists of similar artists. Info View is available on Last.fm and Rhapsody and can be accessed using the Sonos CR200 or Sonos Controller for iPhone.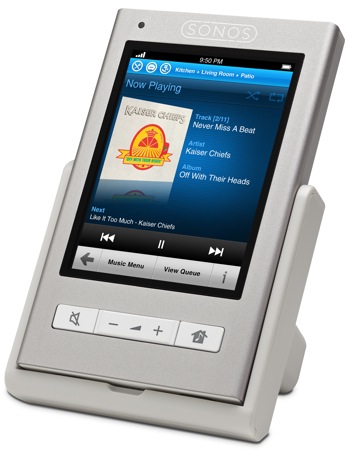 In addition to enabling the new features of the CR200, Sonos 3.0 allows the CR200 to work seamlessly with any existing Sonos Controllers, including the CR100, Sonos Controller for iPhone and Sonos Controller for Mac or PC. Sonos 3.0 also provides Controller support for the latest Operating Systems. Sonos now supports Mac OS 10.4 and above (including 10.6), Windows XP and above (including Windows 7) and iPhone OS 3.0. The new Sonos Controller for iPhone 3.0 is expected to be available via the iTunes App Store after receiving approval from Apple Computer.
Pricing & Availability
The Sonos Controller 200, which includes the Sonos Charging Cradle 200, has a suggested retail price of $349 in the United States and is available worldwide beginning today at authorized Sonos dealers and at www.sonos.com. Also, the CR200 is available today as part of the new Sonos Bundle 250 ($999) which also includes a Sonos ZonePlayer 90 and a Sonos ZonePlayer 120. The Sonos CR200 replaces the Sonos Controller 100, which has been discontinued.