Sherbourn announced the reference-caliber PA-7350 multichannel power amplifier capable of 350 watts @ 8 ohms per channel (7 x 350) in a high efficiency Class H design that is convection cooled and does not require fans. This feature not only increases reliability but energy efficiency as well, and the PA-7350 is completely stable even with 4 ohm loads. Balanced XLR outputs and audiophile-grade input and output terminals make for a superior listening experience, while trigger in/out and rack-mount capability make installations easy for the integrator.
The PA-7350 seven channel professional power amplifier represents a breakthrough in performance, reliability, sound quality, and value. Designed for use in the most demanding applications, the PA-7350 will deliver clean, dynamic, and uncolored power, year after year. Advanced amplifier design and our sophisticated "Soft Switch" Class H power supply allows the PA-7350 to deliver massive amounts of output power while running efficiently and cooly under the most challenging operating conditions. Backed by a development team with decades of experience in bringing the finest quality audio products to the market, the PA-7350 can be specified in the most demanding systems without hesitation.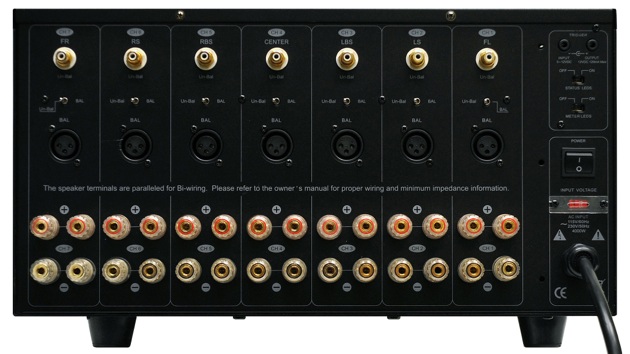 Features
True audiophile grade power amplifier
High efficiency, "Soft Switch" class H design
3.3 kVA toroidal power supply
7 x 350 watts @ 8 ohms
Convection cooled, no fans
Completely stable into 4 ohm loads
Balanced XLR inputs
Audiophile grade input and output terminals
Trigger in/out
Rack mountable
5 year warranty
Dimensions: 17″W x 18.5″D x 9.625″H
The Sherbourn PA-7350 amplifier is a perfect match for their new PT-7020C4 AV preamp/processor.
Price and availability TBD.