Expand Your Mac's Desktop
SendStation Systems today released its new Mini DisplayPort Adapters for Mac. Available as DVI, VGA and HDMI model, the SendStation Mini DisplayPort Adapter allows you to expand your desktop size by up to 4 million pixels, creating more space for important things you need to keep track of or need to work with, such calenders, mailboxes, to-do lists, Photoshop palettes or chats with friends.
"Many users are unaware of the Mac's excellent support for additional, external screens and how easy it is to multiply the existing desktop space" says Andre Klein, SendStation Systems's founder. "With a new MacBook or Mac, all one needs is a SendStation Mini DisplayPort Adapter and a computer display with DVI or VGA connection, which often already exists."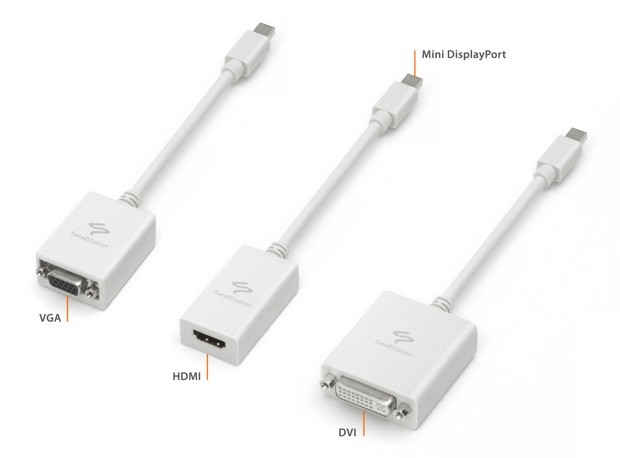 Furthermore the HDMI model makes it possible to watch movies or show Keynote or PowerPoint presentations directly from the Mac on a Flatscreen TV or projector.
SendStation Mini DisplayPort Adapters are built under official license from Apple and work plug & play with:
MacBook 13″ Aluminium (Unibody; from October 2008)
MacBook Pro 15″ (Unibody; from October 2008)
MacBook Pro 17″ (Unibody; from January 2009)
Mac mini (from March 2009)
iMac (from March 2009)
Mac Pro (from March 2009)
all other Macs & PCs equipped with Mini DisplayPort
Pricing & Availability
SendStation Mini DisplayPort Adapters are immediately available at a suggested retail price across Europe is EUR 22.95 for the HDMI and DVI model or EUR 24.95 for the VGA model, respectively USD 22.95/24.95 in the US and the rest of the world.
About SendStation Systems
SendStation Systems, a company based in Frankfurt, Germany, designs and manufactures world-class iPod and Mac accessories. As one of the initial five authorized suppliers since the iPod took off in 2003, SendStation Systems has launched its series of successful PocketDock iPod adapters. Products are available through thousands of retailers around the globe including Apple Stores worldwide.
Reviews Around the Web:

sendstation mini displayport