Ultra-portable multifunctional handheld projector allows you to share pictures and videos, listen to music and store or share files
Sceptre introduced the Luna, an ultra compact, fit in your palm video projector that allows users to spontaneously share videos, pictures and documents while doubling as an personal MP3 player.
Small in size, but big in usability, the Luna provides users with a convenient alternative to bulky portable projectors while eliminating the need to carry additional devices such as an MP3 player. Measuring less than 1-inch thick, the Luna is nearly weightless at 2.6 ounces or less than 1/5 of a pound and can fit in any pocket, laptop bag, or purse.
Perfect for on-the-go users, the Luna can be used to watch movies, showcase projects and presentations, even listen to music. Supporting an array of music, video and picture files, including the most popular AVI, MOV, MPEG, JPEG, BMP, MP3 and WMA, the Luna transforms from a pocket sized video project into an MP3 player with a single switch of a button.
Standard with functions such as calendar, slideshow, video, MP3 and more, the Luna comes with a 2GB Micro SD Card expandable to 32GB for increased storage capacity.
Specifications
Model: LUNA100W
Maximum Resolution: 640×480
Projection Technology: LCoS
Aspect Ratio: 4:3
Brightness: 5 Lumens
Light Source: LED (White)
Projection Distance: Up to 99″
Image Size: 5″ – 50″ (Diagonal)
Estimate Life: Over 20,000 Hours
Battery Life: MPE – 5 Hour, Projection – 1 Hour
Memory Capacity (Micro SD): 512 MB – 32 GB
Video Compatibility: AVI, MOV, MPEG1, MPEG2, MPEG4
Audio Compatibility: MP3, WMA, WAV
Image Compatibility: JPEG, BMP
Projector Dimensions: 3.32″ x 1.74″ x 0.8″
Projector Weight: 2.6 oz
Skin Protector Colors: Black, Pink and Blue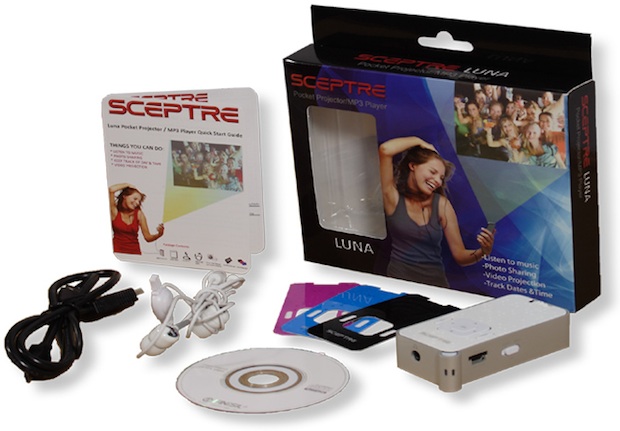 Price and Availability
The Sceptre Luna Pocket Video Projector / MP3 Player is available in white with silver trimming with three interchangeable skin protectors in Black, Pink and Blue for $169.99.