AT&T and Samsung Introduce Cutting-Edge Touch-Screen Phone With Support for AT&T Mobile TV
AT&T Inc. (NYSE: T) and Samsung Telecommunications America (Samsung Mobile)1 today announced the availability of the Samsung Eternity™, an advanced touch-screen phone with support for AT&T Mobile TV. AT&T also announced the availability of a 30-day free trial for new AT&T Mobile TV subscribers.
The Eternity is a multimedia-rich device that is one of the best in its class. In addition to one-touch access to AT&T Mobile TV and a full-touch QWERTY keypad, it provides customers access to mobile broadband Web from the nation's fastest 3G network, AT&T Navigator2, AT&T Mobile Music with Napster Mobile and a 3 megapixel camera.
An attractive black and chrome device with a large, vivid 3.2-inch touch screen, the Eternity also has haptic support, enhancing your sensory connection with the phone and providing subtle vibrations that confirm your selections. Three dedicated keys on the lower portion of the device make operation straightforward and easy to navigate. Additionally, the Eternity supports an accelerometer that will automatically detect motion and the orientation of the device allowing for the use of richer applications and additional feature capability, including autorotation of the display, motion sensing games and photo scrolling by tilting the device.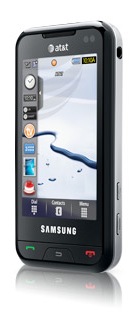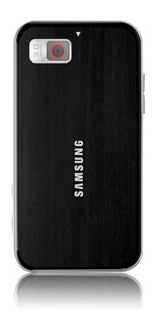 "Eternity can provide endless entertainment options for AT&T customers," said Jeff Bradley, senior vice president, Devices for AT&T's Mobility and Consumer operations. "Our customers are looking for mobile phones to be a remote control for their life, bringing music, the Internet, GPS navigation and even TV with them on the go."
AT&T Mobile TV is an award-winning service from MediaFLO USA, a wholly owned subsidiary of Qualcomm Incorporated (NASDAQ: QCOM) , that provides users with instant access to continuous streaming television content and sporting events from top networks, including programming from leading entertainment brands CBS Mobile, CNBC, Comedy Central, ESPN Mobile TV, FOX News, FOX Mobile, NBC 2Go, MSNBC, MTV, Nickelodeon, CNN Mobile and PIX. New subscribers can go to an AT&T store or visit att.com/mobiletv to sign up for a free 30-day trial3. The trial offer is available through the end of the year.
Samsung's TouchWiz™ user interface allows for quick access to your favorite features. TouchWiz has specially designed widgets to customize and personalize the way you use your phone. The quick and simple "drag and drop" feature allows users to have instant access to their favorite functions, such as the clock, music player, instant messaging, photos and AT&T Mobile TV all from the home screen of the phone.
"The Eternity brings the big screen to the palm of your hand," said Bill Ogle, chief marketing officer, Samsung Telecommunications America. "This touch-screen mobile TV handset is part of Samsung's TouchWiz line of phones and keeps you entertained and connected on the go."
Additional key specifications of the Samsung Eternity include the 3.0 megapixel camera with video capture, Video Share(SM) calling, advanced messaging capabilities, including Mobile Email and instant messaging (Yahoo!, Windows Live™, AOL), Bluetooth technology and a microSD™ memory card slot supporting up to 8GB. The Eternity's browser provides the user with the ability to surf the Internet, navigate pages with the touch of a finger and support easy zoom-in and zoom-out capabilities. The Eternity also includes dual-band 3G connectivity and quad-band GSM technology, which allows AT&T customers to make calls in more than 200 countries and download data in more than 150.
Pricing and Availability
The Samsung Eternity is available through AT&T retail locations or online at http://www.wireless.att.com for $149.99 with a two-year service agreement and after a $50 mail-in rebate4.
1 Samsung Mobile is proud to provide ENERGY STAR-qualified power adapters with its mobile phones and accessories. ENERGY STAR qualified products use less energy, save money, and help protect the environment. Products that have earned the ENERGY STAR meet strict energy-efficiency guidelines set by the US Environmental Protection Agency and the US Department of Energy.
2 Users must cancel free trial of AT&T Navigator within 30 days or be automatically subscribed at a cost of $9.99 per month for unlimited routes. You can cancel from the "My Accounts" portal on your handset or call AT&T customer care. Standard data charges apply, depending on your plan.
3 Users must cancel free trial of AT&T Mobile TV within 30 days or be automatically subscribed at a cost of $15 per month. You can cancel from your phone or call AT&T customer care. Standard data charges apply, depending on your plan.
4 For the Samsung Eternity pay $199.99, and after mail-in rebate, receive $50 AT&T promotion card. A two-year service agreement is also required. AT&T promotion card valid wherever major credit cards are accepted and for 120 days after issue date. May be used to pay wireless bill. Not redeemable for cash and cannot be used for cash withdrawal at ATMs or at automated gas pumps