Features Wireless Protected Set-up (WPS)
Samsung recently unveiled its newest multifunction wireless printer geared toward small business, home office and personal at-home users. The Samsung SCX-4623FW has the high level performance found in larger multifunction printers, but the size, price and easy installation features to accommodate smaller user groups.
"Customers are looking for an easy-to-use, worry-free printer with great features and value—simply more. This is what we aim to achieve in the products we provide," said Ken Colby, director of printer marketing at Samsung Electronics Information Technology Division."We are continuously developing features and functions that save customers time; we've introduced one-touch Wi-Fi Protected Set-Up feature for hassle-free printer installation and AnyWeb Print software to select only what you want to print."
Simply More
The SCX-4623FW features numerous functions to make printing convenient for any use. With the new one-touch WPS button, users can connect wirelessly with just one touch of a button. After simply selecting the WPS button on the router and then on the printer, the SCX-4623FW will automatically connect to the wireless network.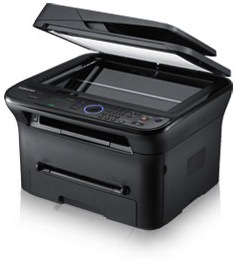 The SCX-4623FW continues to be easy to use with Samsung's AnyWeb Print software, which allows users to print just the information they need, rather than printing several Web pages. Using this software, users can select, drag and drop contents of interest from various Web pages onto a blank page which can then be saved or printed.
The printer's blue navigational compass guides users through several functions and features for your printing, scanning, faxing and copying needs. Additionally, the easy on/off button on the front panel continues to make the SCX-4623FW user friendly.
Sleek Design
Just like the non-wireless version, the SCX-4623F, the SCX-4623FW comes in a stylish black design to compliment other Samsung office devices from monitors to mobile PCs. Its rounded edges and compact size (12.6″ x 16.4″ x 16.1″) makes the SCX-4623FW a perfect fit for home office spaces.
With a large 250 page cassette tray, the enclosed paper cassette prevents dust build for cleaner documents and fewer visits to refill paper.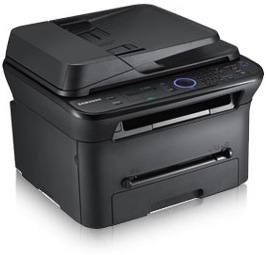 Value Without Compromise
With a print speed of up to 23 pages per minute (ppm), the SCX-4623FW proves that a small office or home printer doesn't have to compromise on performance. Additionally, two variations of toner yield cartridges give you the option to choose between a standard 1.5K yield and 2.5K yield to fit to your printing needs.
Because the SCX-4623FW shares the same toners as Samsung's ML-2525 series, SCX-4600 and SCX-4623F printers, the same toner can be used across various machines for any type of environment.
The SCX-4623FW is Energy Star compliant and eco-sensitive with less than 45W of energy in standby mode and 10W in sleep mode.
The SCX-4623FW will be available at the end of June for $249.99.