Samsung announced the 20-megapixel NX200 Interchangeable Lens Digital Camera with an APS-C CMOS sensor and other premium features such as high-speed continuous shooting (7fps (max) with 100ms Advanced Auto Focus), wide range ISO (100-12,800), Full HD movie recording, and Samsung's unique i-Function lens.
The NX200 delivers DSLR-like image quality in a camera that is compact and easy to use. To allow for high-speed continuous shooting, the NX200 features 100ms Advanced AF. Thanks to the fast start-up time and seven fps continuous shooting, it's the perfect way to capture that split-second action in an instant. Additionally, users will never miss a moment, with the ability to move from shot to shot in only 400ms.
The camera's wide range ISO (100-12800, covering seven stops) gives life-like color and sharp details, even in dark environments or when capturing still images of moving objects.

To capture movement on video, the NX200 also features 1920×1080/30p (H.264) HD movie recording for exciting and vivid video with stereo sound. All this is incorporated into a compact and sleek body with a premium metal design, light enough to be carried in a jacket pocket and stylish enough that anyone will be proud to be seen with this camera.
The NX200 also enables state-of-the-art usability through Samsung's i-Function 2.0 lenses, which allow users to control a range of parameters from the lens without having to take their eye off the shot. The NX200 is fully compatible with the wide range of nine different i-Function lenses which enable toggling between shutter speed, aperture, exposure value (EV), white balance (WB), and ISO quickly and easily through the button and ring on the lens. With the upgraded i-Function 2.0 on the NX200, users can also control six different Smart Filters and the intelli-Zoom function from the lens while in Lens Priority Mode. New lenses for the i-Function system include 18-200mm, 16mm, 60mm and 85mm focal lengths.
The Samsung's NX200 camera features ten different Smart Filter effects, six of which can be easily accessed through the i-Function lens, allowing the user to capture a uniquely creative image of their subject without having to take their eye off it to change the filter. The new NX200 also includes Magic Frame technology, which enables the user to encapsulate their pictures with thirteen different stylized frames, from magazine covers to holiday themes for fun photos to share with family and friends.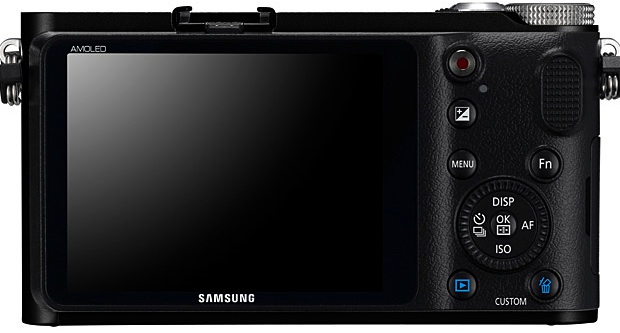 With its Smart Panel feature, the NX200 makes taking pictures simple and fuss-free, even for first-time users. The high-quality images captured can be viewed in brilliant quality on the 3.0″ VGA AMOLED display. The camera's Smart Panel also offers intuitive control thanks to a Hot Key button that enables users to switch to key functions without the need to scroll through confusing menus to get to the desired shot.
The new Panorama function means that users can take lengthened shots of large objects or turn the image into a 3D scene, bringing the object to life. To capture even more of the moment for posterity, Samsung has also added the Sound Picture function to the NX200, so that a snippet of sound can be recorded to accompany a still image to add even more memories to a photograph.
Price and Availability
Not yet announced.
See more about: Digital Cameras, Samsung Digital Cameras