Samsung Broadens Award-Winning NV-Series With Two New Models
Samsung is proud to introduce two new models to its awardwinning NV-Series of advanced point and shoot digital cameras — the 8.1 mega-pixel NV30 and 10 mega-pixel NV40. In addition to featuring elite NV-Series technology, such as the revolutionary Smart Touch user interface, the NV30 and NV40 also incorporate a new DRIM Engine image processor, for enhanced image quality and speed.
Combined with the cameras' premium 3x optical zoom Schneider lenses, the new DRIM Engine yields outstanding image quality, producing some of the sharpest, most clear and color accurate images available today. The highest performing imaging sensor found in Samsung's extensive array of digital cameras, the DRIM Engine also boasts a drastically improved shutter lag, shot-to-shot time and processing speed.
The NV30's and NV40's Dual Image Stabilization also adds to the shooting experience. Dual Image Stabilization combines both Samsung's improved Optical Image Stabilization (OIS) and Digital Image Stabilization (DIS) modes. When selected, OIS and DIS work simultaneously to provide blur-free images, no matter how shaky the user's hand may be.
"This is the next generation of Samsung's award-winning NV series of digital cameras," said Stewart Henderson, Vice President Marketing, Samsung Opto-Electronics America. "NV stands for New Vision, and the NV30 and NV40 are representative of the evolution of what has become our highly-successful, flagship line. At Samsung, we strive to deliver the most advanced, digital imaging solutions to consumers in products that not only offer a stylish design but also deliver images of incomparable quality. Samsung's NV-Series raises the bar among the key players in this industry and is sure to continue to be a formidable challenger to such photographic brands' competitive offerings," concluded Mr. Henderson.
In keeping with the NV-Series' philosophy of encouraging users to get the most out of their camera's robust functionality, Samsung has included a new, secondary Photo Style Selector (PSS) dial, which represents a revolution in both design and functionality. Located on top of the NV4's slim-styled body opposite the standard mode dial, the PSS dial allows users to set the NV4 to a designated shooting mode. By empowering the shooter's thumb, the PSS dial brings a host of creative effects to the fingertip, allowing the user effortless access to seven types of color profiles, including Soft, Vivid, Forest, Retro, Cool, Calm and Classic.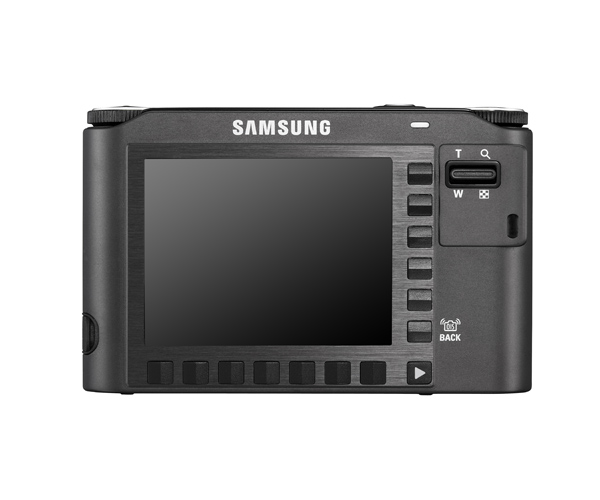 On the back of the cameras' brushed black, stainless steel bodies, lies Samsung's Smart Touch user interface. Smart Touch enables easy navigation of the cameras' comprehensive feature sets by simply sliding a finger across the control buttons positioned around the cameras' 2.5″ LCD screens, which will automatically brighten or dim depending on the current lighting situation. For reviewing and sharing images with others, the NV30 and NV40 also feature an intuitive Multi-Slide Show. With Mutli-Slide Show, end-users can playback their images using five different slide transitions and can also have their images set to scroll to the cameras' preloaded music or their own favorite MP3 files.
Users can also take advantage of advanced features such as Face Detection and Self Portrait mode. Face Detection technology makes taking pictures of family and friends a snap, as it detects up to nine faces and automatically adjusts focus and exposure to ensure better composition and image quality. Self Portrait mode is a unique functionality that takes the guessing out of taking a self portrait. By utilizing Face Detection technology, the NV30 and NV40 automatically detect the user's face, adjusts focus and exposure, and will only allow a photo to be taken if the subject is centered in the frame. Additionally, with the ability to shoot at ISO 3200 and 14 scene modes to choose from, including Night, Portrait, Children, Landscape, Close-Up, Text, Sunset, Dawn, Backlight, Fireworks, Beach & Snow, Cafe, Food, and Self Portrait, shooters can effortlessly adjust the NV30 and NV40 and capture the best image possible in any setting.
The NV30 and NV40 also boast a Function Description feature. Designed to reduce the intimidation factor of the cameras' various modes, the Function Description automatically provides a brief and easy to understand description of each setting when scrolling through the cameras' menus, helping the end-user determine which setting is appropriate for their current shooting scenario.
These new NV cameras also have the ability to record at VGA resolution (640×480) at a maximum frame rate of 30fps. Shooters can also take advantage of the cameras' movie stabilizers and 3x optical zooms while recording video and with Samsung's Successive Recording mode, can pause, and then resume filming without having to save the clips as individual files.
NV30: $279 MSRP — Available February 2008
NV40: $329 MSRP — Available March 2008
Samsung Opto-Electronics America, Inc., Ridgefield Park, N.J., is the U.S. subsidiary of Samsung Techwin Co., Ltd., Sungnam Kyungki-Do, Korea. Samsung Opto-Electronics markets a full line of auto focus cameras, zoom and digital cameras for the amateur as well as the professional under the Samsung brand name.
For full specifications and hi-res images visit the Samsung Camera website at: www.samsungcameraUSA.com