Offer Enhanced Picture Quality and Advanced Connectivity in New Slim Designs; Select Models Support 3D
Samsung just unveiled its new portfolio of ultra-slim Plasma HDTVs with the 8000, 7000 and 6500 Series. Each provides technologies that deliver exceptional picture quality, advanced connectivity with the updated Internet@TV feature and compliance to revised EnergyStar 4.0 standards — all in a slim form factor. Additionally, the premium plasma TV line (8000 and 7000 Series) includes Samsung's proprietary built-in 3D processor that adds a new dimension to TV viewing at home.
Samsung Plasma HDTV 8000 Series


Featuring a slim brushed titanium bezel with hints of the Touch of Color™ (ToC™) design, the Samsung Plasma HDTV 8000 Series provides consumers with the perfect combination of design and performance. Samsung's built-in 3D technology makes images leap off the screen while innovations like Real Black Filter and Motion Judder Canceller (MJC) deliver unprecedented picture quality. The Real Black Filter reduces the onscreen glare caused by ambient light, so blacks and shadow details are as crisp and defined as possible, while MJC reduces motion judder inherently found in fast-paced action scenes in film-based movies.
In order to ensure that consumers get the entertainment experience that best fits their tastes, the Samsung Plasma 8000 Series comes with a calibration mode that allows them to adjust key picture quality aspects for optimized viewing. The TVs are also equipped with Samsung's CinemaSmooth™ technology for playback of 24fps Blu-ray content mirroring the quality of the latest movie theaters.
The upgraded Internet@TV feature now includes Samsung Apps, providing consumers with an expanded, easy to navigate selection of content and applications from leading services like Accedo Broadband, AccuWeather.com, The Associated Press, Blockbuster, Fashion TV , Netflix, Picasa, Pandora, Rovi, Travel Channel, Twitter, USA TODAY, and Vudu. Applications can be downloaded and viewed all while watching TV. The first batch of TV apps will launch in the spring free of charge, while premium apps will be available for purchase via the engine's monetary transaction solution in the summer of 2010.
Samsung Plasma HDTV 7000 Series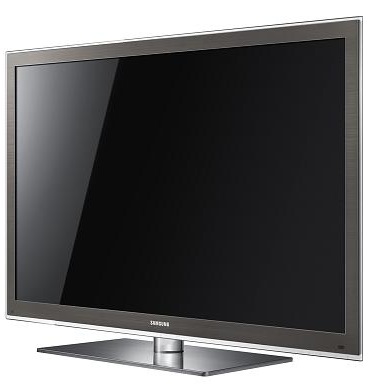 The Samsung Plasma HDTV 7000 Series brings the high-quality of plasma displays and the immersive experience of 3D entertainment in a slim, brushed black bezel designed to delight entertainment enthusiasts. This ultra-slim TV comes equipped with a wealth of immersive viewing technologies and picture enhancing technologies, including Samsung's Clear Image Panel technology which delivers clear images from every angle without the dual images and blurring typically found with conventional panels. It also features High-Definition 3D Processing and Internet@TV connectivity.
In particular, Samsung's built-in 3D processor was developed to comply with major 3D formats including the recently ratified "Blu-ray 3D" standard. In addition, Samsung's 3D system delivers a picture using a full color spectrum for an unbelievable, immersive viewing experience. Along with the company's 3D Blu-ray player (BD-C6900) and active shutter glasses, Samsung offers a complete solution allowing consumers to bring the 3D theater experience home. The processing can even be applied to broadcast TV, gaming content and legacy DVDs to automatically convert 2D viewing into 3D in real time. If you're not in the 3D mood, you're back to watching one of the best quality HDTVs on the market with the push of a button.
The 58-inch class model received a 2010 CES "Innovations Honoree" Award.
Samsung Plasma HDTV 6500 Series
The Plasma HDTV 6500 Series is Samsung's entry-level ultra-slim TV. While the TV's exterior features the company's signature ToC design, the TV comes with Samsung's Wide Color Enhancer and Clear Image Panel to achieve the highest picture quality available on a plasma TV. The 6500 Series also provides expansive access to entertainment options with the updated Internet@TV feature.
Ever More Efficient
Samsung's 8000, 7000 and 6500 Series Plasma HDTVs feature a high-efficiency panel that lowers the TVs power consumption to meet the more stringent Energy Star 4.0 guidelines.
"Samsung has raised the bar for the plasma TV marketplace by providing exceptional picture quality in a slim and energy efficient package," said Sung-ho Jun, Senior Vice President of Visual Display Division at Samsung Electronics. "With select models also including 3D capabilities and Web-enabled multimedia access, Samsung's promise to create products that evolve with the needs and desires of our customers is reflected in our new 2010 plasma TV lines."