World's Narrowest Bezel Technology on Large Format LCD Series
Samsung Electronics America, a subsidiary of Samsung Electronics Corporation, the number one worldwide brand of professional Large Format LCD display products, today launched the 460UT, 460UTn and 460UTn-UD Series, a 46″ LCD Professional Display with a super-narrow bezel space measuring a mere 2.4 mm (right and bottom) of the screen and 4.3 mm (left and top). With such a thin bezel, tiling multiple units of these displays creates only 7.3 mm between the live screen areas. The displays are built to deliver an almost seamless video wall solution with one of the smallest bezel spaces on a commercial LCD product. The 460UT Series is also compatible with Samsung's exclusive patented Interlocking Display Solution, Samsung ID2, which allows system integrators to easily align and build video walls with perfect matching bezels in three directions.
Developed with Samsung's renowned front-of-screen performance and technology leadership, the 460UT Series delivers up to 700 nits of brightness, a 1366 x 768 resolution and contrast ratio of 3000:1 creating a vivid and detailed viewing experience. It also has full connectivity, to ensure compatibility with a range of video and PC applications and a built-in video wall processor with natural view mode to account for the very slim bezels. Accessibility is also addressed with the removable back panel providing easier access to the control board and PC slot. This top-of-the-line professional display also features Samsung's exclusive DID panel technology to help support users who require 24/7 continuous operation.
The 460UTn also features a built-in network PC running Microsoft Windows XP-embedded, and Samsung's exclusive MagicInfo™ content management and delivery software providing users with an easy tool to manage content over a network. The UT Series will be available in April.
The 460UTn-UD offers a software solution for the creation of a video wall (up to 250 displays) running in real-time from a single PC, while processing information from up to 125 PC sources. The software provides the flexibility to manipulate content by zooming in and out or switching and dragging images.
"The 460UT Series is a true example of how Samsung continues to expand its leadership role in the digital signage market. The monitor's fluid, uninterrupted images afforded by its unique super thin bezel is unmatched when combined with its back-end access and is a rich offering for system integrators by reducing downtime and lost productivity," said J.H. Kim, President of Samsung Electronics America's Information Technology Division. "The 460UT is the ultimate video wall display offering. I am confident this technology will be in demand for some time, and continue to evolve as users' needs become more sophisticated and complex."
The 460UT Series' state-of-the-art video wall technology reclaims space from old video cubes, while streamlining video wall design with the Samsung ID (Interlocking Display) solution. With the footprint savings, accessibility and integrated features like the network PC and MagicInfo Pro content management and delivery software, this Series revolutionizes how system integrators design and build video walls.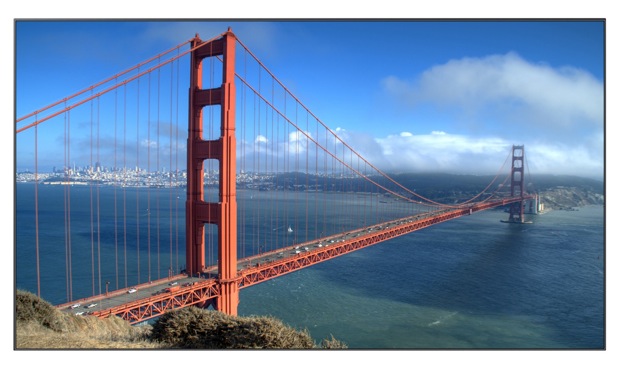 460UT, 460UTn and 460UTn-UD LCD Displays
Super-narrow 2.4 mm (R & B sides) or 4.3 mm (L & T sides) bezel area
Samsung DID panel technology for 24/7 continuous operation
Up to 700 nits of brightness
Integrated network PC with Samsung's exclusive MagicInfo™ Content Management & Delivery solution (460UTn only)
UD (Ultra Definition) Software allows for the creation of a video wall (up to 250 displays) running from a single PC with flexibility to manipulate content in real-time (460UTn-UD only)
1366 x 768 resolution
3-year, on-site parts/labor warranty
3000:1 contrast
8 ms Response Time
Full PC- and video-connectivity