Unlike any other camera available today, the Polaroid Z340 Instant Digital Camera pays homage to its analog predecessors, yet contains an advanced, easy-to-use digital feature set. Designed for portability, the Z340 combines a 14.0 megapixel digital camera with a ZINK-enabled printer using the ink-free Zero Ink Printing Technology from ZINK Imaging to deliver a 3×4″ print — the same size as the classic Polaroid photos that captured millions of special memories over the past 63 years. The Polaroid Z340 camera gives you even more options for instant printing: choose the iconic Polaroid Classic Border Logo or full bleed and contemporary 3×4″ photos.
Since the launch of the Polaroid Land Camera in 1948, the first instant camera, people around the world have enjoyed the magic of Polaroid instant photography. The Polaroid Z340 camera delivers the same instant experience that is synonymous with the Polaroid brand: a simple, quick and easy way to capture, print, share and create with snapshots from our lives.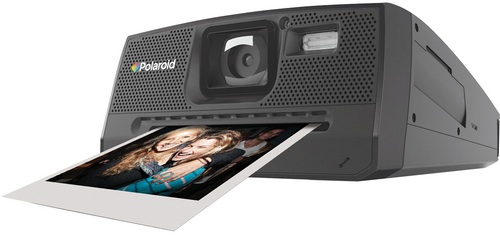 Designed to be both a digital and instant camera, the Z340 is a part of the Polaroid experience that injects more life, meaning and features into your photos than any other imaging device:
Fuses the digital and analog worlds: Featuring a 14.0 megapixel digital camera and integrated ZINK printer, the Z340 camera produces vibrant photos with the patented ZINK Paper, an advanced composite material with cyan, yellow, and magenta dye crystals embedded inside. Before printing, the embedded dye crystals are clear, so the ZINK Paper looks like regular white photo paper. The Z340 uses heat to activate and colorize these crystals.
Superb Print Quality: The Polaroid Z340 camera uses ZINK Imaging's second generation of the ZINK Technology, delivering vibrant and highly saturated prints. ZINK prints emerge fully developed and protected by a smudge-proof, water-resistant coating.
Made to be mobile: Designed for old and new fans of Polaroid, the Z340 camera's one pound, seven ounce, simple and intuitive features make instant printing and digital photography effortless with its rechargeable lithium-ion battery that prints up to 25 photos and 75 captures.
Snap, view, share and store: Simply snap, check out images on the Z340 camera's 2.7″ LCD screen and choose photos for printing — just like that, favorite images are instantly shared, no connections required. Just like a regular digital camera your images can be automatically saved to the on-board SD card. Various settings allow you to automatically print every picture or be more selective and wait for that right picture so there are no more wasted prints.
Get creative: No need to phone a friend to ask for help with computer upload and editing tricks — on-board editing features allow review and cropping prior to printing. Unique border options give your photos even more of a voice. You can even upload your own custom borders to the camera.
Aesthetically Pleasing and Environmentally Responsible: Reminiscent of Polaroid cameras of the past, the Polaroid Z340 camera is clearly a significant departure from a typical camera. Designed for both form and function, photo printing is now as portable as photo taking: ZINK Technology does not require messy ribbons, toner or inkjet cartridges.
Price and Availability
The Polaroid Z340 camera is available starting today for $299.99.
Thirty sheets of Polaroid ZINK 3×4″ Paper cost $19.99.
See more about: Newest Digital Cameras, Photo Printers, Polaroid Cameras