Pioneer introduced seven affordable single CD car head units for 2012 which feature App Mode and USB connectivity, while certain models offer proprietary MIXTRAX EZ, built-in Bluetooth connectivity, HD Radio Technology and a full dot LCD display.
MIXTRAX EZ (DEH-P8400BH and DEH-P7400HD only)
To easily and quickly enjoy a mix of the consumer's music library in a style similar to a live DJ, Pioneer has created a technology called MIXTRAX EZ that provides three types of DJ-style transitions (Flanger, Echo and Crossfade) and six sound effects (Backspin 1 and 2, Echo, Trans, Roll and Scratch) that are automatically added between songs for a nonstop, continuous listening experience.
To further enhance the "dance club in your car" atmosphere, the illumination buttons and display of the two in-car CD receivers pulsate and change color with the beat of the music. Two modes of illumination (defeatable), each with six color patterns, create different light effects to give users a cool and fun experience.
App Mode (All Models)
Available on all new 2012 models, Pioneer's App Mode lets users listen to their favorite music and streaming music apps from a USB connected iPhone or iPod touch. The feature allows passengers to separately control, browse and select apps directly from the iPhone or iPod touch while audio playback is performed by the Pioneer receiver.
Bluetooth
Bluetooth is built-in to the DEH-P6400BT, DEH-P8400BH and DEH-P9400BH and is optional on DEH-P7400HD. Bluetooth connectivity provides a wireless communication and data connection to Bluetooth enabled devices. For 2012, the Bluetooth profiles include the Hands-Free Profile (HFP) for wireless calling and receiving; the Advanced Audio Distribution Profile (A2DP), which allows wireless audio streaming; and the Audio Video Remote Control Profile (AVRCP) version 1.0, which provides wireless control. To simplify the Bluetooth pairing process, all Bluetooth-equipped models support the Simple Secure Pairing (SSP), which allows the user to pair compatible devices without the need to input PIN codes.
HD Radio
The 2012 models DEH-4400HD, DEH-P7400HD, DEH-P8400BH and DEH-P9400BH are integrated with an HD Radio tuner embracing the growing trend of high quality audio broadcasts and provide that clear digital connection to HD Radio broadcasts from radio stations around the country. In addition to crystal clear reception, artist and song title information is shown on the display of the receivers (when available).
USB Connectivity
Each new model in the line-up now includes USB connectivity with dual ports available on the flagship model DEH-P9400BH. The USB connection enables consumers to connect their music-filled flash drive, hard drive and/or smartphones. And because Pioneer receivers are "Made for iPhone or iPod" certified, with the optional
CD-IU51 cable for Apple devices, the receivers directly control the devices and provide song, artist, time and album information in addition to direct signal transfer for great sound quality. In addition, Pioneer's USB ports provide up to one amp of DC current for faster charging of battery powered USB devices.
Pandora internet radio — As the first manufacturer to introduce Pandora control on its in-vehicle receivers, Pioneer continues to integrate control of Pandora internet radio to more receivers, starting with the DEH-P7400HD. The Pandora ready units enable users to listen to and control Pandora streaming content through a connected Apple iPhone.
Enhanced Displays — Available on all models (except DEH-2400UB) are multi-color displays offering up to 210,000 color preferences to match the user's interior dashboard or their favorite color, along with separate adjustable keys and display illumination colors. On models DEH-P7400HD, DEH-P8400BH and DEH-P9400BH, Pioneer integrates its Full Dot Multi-line LCD display, presenting more information that is brighter and easier to read.
Advanced Sound Retriever (ASR) — Beginning with the DEH-2400UB, Pioneer adds its patented Advanced Sound Retriever (ASR) technology to help restore the musical detail lost in the creation of compressed music files (MP3, WMA and AAC) ultimately creating a fuller, richer and more enjoyable listening experience during playback.
Lever Key — On higher end models starting with the DEH-P7400HD, Pioneer uses a new lever key integrated with the volume knob to easily change track, tunes in stations, and more.
Specifications: 2012 Pioneer Single-CD Receivers
DEH-2400UB
DEH-3400UB
DEH-4400HD
DEH-6400BT
DEH-P7400HD
DEH-P8400BH
DEH-P9400BH
MSRP
$90
$100
$120
$140
$160
$190
$230
Supertuner IIID
Yes
Yes
Yes
Yes
Yes
Yes
Yes
Power
MOSFET 50
MOSFET 50
MOSFET 50
MOSFET 50
MOSFET 50
MOSFET 50
MOSFET 50
RCA Preouts
Single
Dual
Dual Dual
Triple
Triple
4-Volt
Triple
4-Volt
Triple
4-Volt
Display
LCD (10 x 1)
LCD (10 x 1)
Dot Matrix (12 x 1)
Dot Matrix (12 x 1)
Full Dot LCD 3 line
Full Dot LCD 3 line
Full Dot LCD 3 line
Remote Control
Yes
Yes
Yes
Yes
Yes
Yes
Yes
HD Radio Tuner
–
–
Built-in
–
Built-in
Built-in
Built-in
MIXTRAX EZ
–
–
–
–
Yes
Yes
–
Sirius XM Control
–
–
–
–
GEX-P920XM
CD-SB10
GEX-P920XM
CD-SB10
GEX-P920XM
CD-SB10
AppRadio
–
Yes
Yes
Yes
Yes
Yes
Yes
Pandora Ready
–
–
–
–
Yes
Yes
Yes
Lever Key
–
–
–
–
Yes
Yes
Yes
Advanced Sound Receiver
Yes
Yes
Yes
Yes
Yes
Yes
Yes
Compressed Audio playback
MP3 / WMA
MP3 / WMA
MP3 / WMA
MP3 / WMA
MP3 / WMA / AAC
MP3 / WMA / AAC
MP3 / WMA / AAC
iPod / iPhone Ready
USB
USB
USB
USB
USB
USB
USB
USB Control (1 amp)
Yes
Yes
Yes
Yes
Yes
Yes
Yes
Rear X2
Bluetooth Ready
–
–
–
Built-in
CD-BTB200
Built-in
Built-in
Built-in Auxiliary Input
Front
Front
Front
Front
Front
Front
Front
Limited Warranty from Authorized Dealer
One Year
One Year
One Year
One Year
One Year
One Year
One Year
MSRP
$90
$100
$120
$140
$160
$190
$230
Availability
Feb. 12
Feb. 12
Feb. 12
Feb. 12
Feb. 12
Feb. 12
Feb. 12


DEH-2400UB

DEH-3400UB


DEH-4400HD


DEH-5400BT


DEH-6400BT

DEH-P7400HD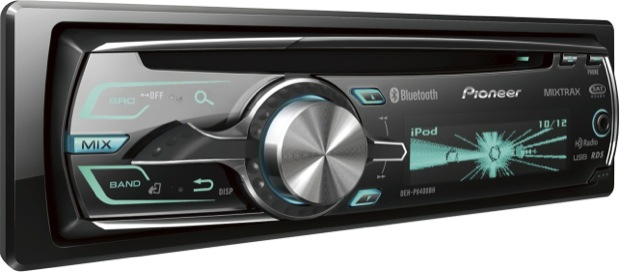 DEH-P8400BH


DEH-P9400BH