PENTAX announced four accessory Q-mount lenses designed for exclusive use with the PENTAX Q, in addition to the standard lens available with camera purchase. Each new lens is highly compact and lightweight with an optimized image circle to match the size of the Q's CMOS image sensor. This new Q-mount lens series offers PENTAX Q users a comprehensive lens selection.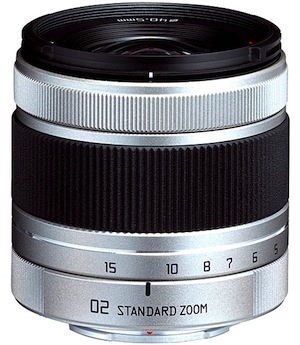 PENTAX 02 Standard Zoom
With a focal length equivalent to a 27.5-83.0mm zoom lens in the 35mm format, this standard zoom lens is ideal for wide angle to medium telephoto range. With four extra-low-dispersion and low-refractive aspherical optical elements, the lens offers exceptional image rendition while effectively reducing chromatic aberration to a minimum over the entire zoom range. The Standard Zoom features a minimum focusing distance of 11.8 inches (30 centimeters) at all focal lengths for close-up photography. Featuring a high-grade finish, this lens incorporates the special optical glass elements and PENTAX exclusive lens coating technology for beautifully defined, high quality images that are sharp and high contrast even to the edges. The AF motor installed in the lens assures smooth, quiet focusing operation. The lens shutter mechanism allows the PENTAX Q's built-in auto flash to be synchronized to the camera's top shutter speed of 1/2000 second (or 1/250 second when using an accessory flash unit). This lens is also equipped with a built-in ND (neutral density) filter for open aperture shooting at bright locations or when using slower shutter speeds. The lens price $299.95.
Three additional lenses also are announced. Each offers outstanding value at an affordable price so users may produce a variety of distinctive, dramatic images. Each features manual focus operation, fixed aperture and lightweight lens mount minus a lens shutter unit to reduce size and weight.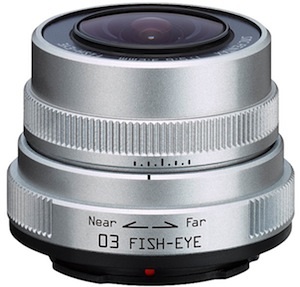 PENTAX 03 Fish-Eye
This ultra wide angle lens offers an extra wide 160 degree angle of view allowing photographers to create a fish-eye visual effect. The distinctive ultra wide angle characteristics produce unique, eye-catching images with an exaggerated, distorted perspective and a pan-focus effect that captures every element in the image field in sharp focus. The lens price is $129.95.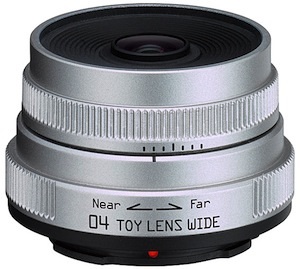 PENTAX 04 Toy Lens Wide and PENTAX 05 Toy Lens Telephoto
With optics designed specifically to retain various lens aberrations, these lenses produce subdued, nostalgic images like photos taken with a traditional toy camera. The Toy Lens Wide is a unifocal wide angle field of view with a focal length equivalent to 35mm in the 35mm format. The PENTAX 05 Toy Lens Telephoto is a unifocal medium telephoto lens with a focal length equivalent to 100mm in the 35mm format.
Additional accessories for the PENTAX Q system lenses will include the following (prices and availability to be announced):
PENTAX-100 PL Filter: Attached to the PENTAX 01 Standard Prime or PENTAX 02 Standard Zoom, the 40.5mm polarizing filter minimizes reflections on the water or glass surface, which are difficult to remove during digital processing, to assure crisp, high contrast images.
MH-RA 40.5mm: A metallic, dome-shaped lens hood for exclusive use with the PENTAX 01 Standard Prime lens.
PH-SBA 40.5mm Lens: A plastic, square-shaped lens hood for exclusive use with the PENTAX 02 Standard Zoom lens.
Initially, the PENTAX Q system will ship in Japan. Anticipated shipping time to the United States is early Fall 2011 at around $800 for the standard lens kit. See more about the PENTAX Q Interchangeable Lens digital camera or other PENTAX news and reviews.