Exceptional Accuracy, Clarity and Refinements, Like an External Power Supply for the XP-20, Deliver Unmatched Quality and Sophistication
FORESTHILL, CA, Oct. 24, 2008 — Pass Laboratories, Inc., an audio innovator renowned for its unique high-performance products, has introduced the XP-10 and XP-20 Preamplifiers, two ultra high-quality stereo components that deliver exceptional accuracy, clarity, detail and sheer musical pleasure.
The XP-10 and XP-20 were created by gifted audio designer Wayne Colburn with the convenience of remote control and, in the XP-20, an external power supply isolated from the analog circuits in a matching second chassis. Like all Pass Labs designs, the XP-10 and XP-20 deliver exemplary, highly reliable performance while minimizing the number of components and stages in the signal path. Either model could easily be the last preamplifier a music enthusiast need ever purchase.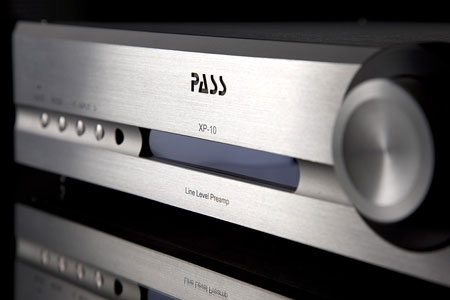 Designed by audiophiles for audiophiles, the XP-10 and XP-20 are the finest pre-amplifiers Pass Labs has ever built, more refined descendants of its highly acclaimed X-Series Preamplifiers, represented by such models as the X0.2, X1 and X2.5. The X-series preamps earned many highly respected accolades, and provided a solid foundation for developing the new XP models.
The XP-10 and XP-20 more accurately reproduce state-of-the-art recordings, lend more weight to highly dynamic passages, delineate bass lines more clearly, cleanly and accurately, and present instruments and voices in a more refined spatial envelope with better spectral balance. Nuances and fine details become apparent even in loud and highly complex musical passages. The preamps also provide listeners with a wider choice of listening levels, employing 64 volume steps in small increments.
The XP-10 and XP-20 present a dramatically superior noise floor and very fine detail retrieval so that it's practical to listen to and enjoy music at very low volumes. Enhanced details come through without any loss of musicality. The preamps do not have to be played at live performance levels to enjoy the musical experience, although they can be played as loudly as any might care to or dare.
As exceptional as is the XP-10, the XP-20's isolated power supply further enhances its performance, conveying musical bass with significantly more impact, articulation and timbral accuracy. With well-recorded material, the XP-20
presents a more refined sound stage than the XP-10 with greater ability to accurately delineate instruments in their proper spatial perspectives. However, both preamps deliver the experience of a musical event in a more believable sonic panorama than anything Pass Labs has previously brought to market.
Both the XP-10 and XP-20 are housed in sleek chassis of brushed aluminum, measuring 17 inches wide by 12 inches deep by 4 inches high. The XP-20 has a second matching chassis for its external power supply, which can be turned on using the remote control. Both preamps furnish two balanced and three single-ended inputs.
The XP-10 and XP-20 Preamplifiers are available now from authorized Pass Labs dealers at suggested retail prices of $5,250 and $8,600, respectively.
About Pass Labs
Founded in 1991 by legendary audio designer Nelson Pass, Pass Laboratories, Inc. markets its unique amplifiers, preamplifiers and speakers throughout the world. The company has been based in Foresthill, California, since its beginning, and is widely regarded as one of the most innovative audio brands in the world. Its critically acclaimed Aleph, X and XA-Series products have won numerous awards, and Founder Nelson Pass holds numerous audio patents. His achievements include developing the first dynamically biased Class A amplifier circuit in 1974, developing a fully cascode audio power amplifier in 1976, and developing the Stasis amplifier in 1977. He helped popularize solid-state, Class A power amplifiers, and developed the very successful Aleph series of products, and the Super-Symmetry circuit, which achieves exceptionally low distortion and noise levels.
# # #