Pass Laboratories announced the XP-30, their highest performing and finest sounding preamplifier. The flagship model uses a triple-chassis structure and external power supply for two to six amps. The XP-30 generates less noise, less crosstalk, less distortion. It delivers greater dynamic range, gain, output voltage and output current.
The flagship XP-30 joins Pass Labs' XP-10, XP-15, XP-20 and XP-25 in its acclaimed XP series of preamps and phono preamps.
In measurable performance, the XP-30 exceeds its predecessors in generating lower noise levels, better crosstalk specifications, greater dynamic range, producing music exhibiting more resolution, more dynamics, and a better sense of space and dimensionality. It delivers the ultimate sonic experience a two-channel audio system can provide under any and all conditions.
The XP-30 is a modular preamplifier consisting of one power supply and control chassis and additional gain chassis, each serving one channel. It is typically supplied as a two-channel product although it can be configured to serve anywhere from one to six channels, enabling but not requiring the design of very large or unusual speaker systems.
Each channel provides master and slave outputs. A knob on the front of each of the gain chassis sets the slave output to be equal to or less than the master level; all connected gain chassis respond to a master level adjustment on the control chassis. Both single-ended and balanced outputs have the same gain structure and may be used interchangeably. The control chassis also supports a mono function that allows almost limitless multi-amplifier functionality.
A new low-noise volume control covers a range of 100 dB in 1-db increments.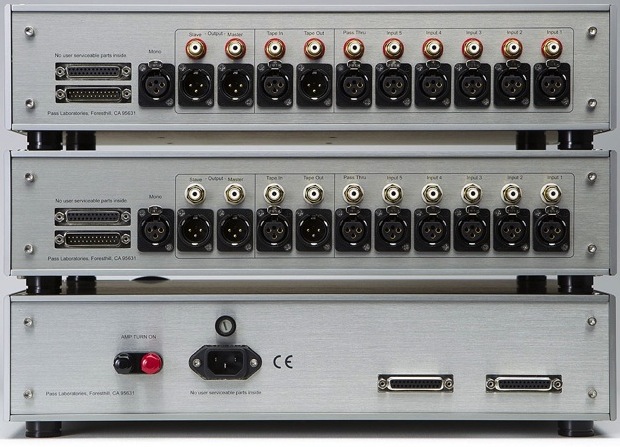 The external power supply is large enough for a small power amplifier. Its chassis houses a pair of highly efficient, low-noise Plitron transformers. The circuits use dual mono topologies that supply ample current and excellent voltage stability to the gain stages, as well as inherently better noise suppression and filtering. Very low-noise, high-speed parts further enhance its performance.
The power supply enhancements allow music to flow through the XP-30 with a dramatically greater sense of ease, spatial development and dynamic contrast than through any other of Pass Labs' preamplifiers.
Price and Availability
The Pass Labs XP-30 Preamplifier will be available August 2012 for $16,500.
Specifications
| | | | |
| --- | --- | --- | --- |
| | XP-30 | XP-20 | XP-10 |
| Overall Gain | -90 dB to +10 dB | -70 dB to +10 dB | -65 dB to +10 dB |
| Volume steps | 99 | 83 | 83 |
| Remote | Yes | Yes | Yes |
| Inputs | 6 | 5 | 5 |
| Outputs | 4 | 2 | 2 |
| Frequency Response | -3dB @ 2 Hz and 60 kHz | -3dB @ 2 Hz and 60 kHz | -3dB @ 2 Hz and 60 kHz |
| Input Impedance | 42k balanced | 96k bal, 48k single-ended | 96k bal, 48k single-ended |
| Output Impedance | 120 Ohm bal, 120 Ohm SE | 100 Ohm bal, 50 Ohm SE | 100 Ohm bal, 50 Ohm SE |
| CMRR | -60 dB, 1 kHz | -60 dB, 1 kHz | -60 dB, 1 kHz |
| Cross-talk | -100 dB, 1kHz Ref 1V | -90 dB, 1kHz Ref 1V | -90 dB, 1kHz Ref 1V |
| Signal to Noise Ratio | < -110 dB, Ref 5V | < -110 dB, Ref 5V | < -110 dB, Ref 5V |
| Power Consumption | 45 watts | 25 watts | 10 watts |
| Number of chassis | 3 | 2 | 1 |
| Dimensions, Each Chassis | 17″W x 12″D x 4″H | 17″W x 12″D x 4″H | 17″W x 12″D x 4″H |
| Shipping Weight (lbs) | 75 | 50 | 32 |