Parasound introduced the Zphono-USB Preamp and Digital Interface, a compact preamplifier for moving coil and moving magnet (MC/MM) phonograph cartridges and line-level analog sources. The Zphono-USB also adds an analog-to-digital (A/D) converter with a USB port to transfer audio from vinyl LPs onto Mac and PC as digital media. Zphono-USB is the newest of the company's Z-Series family of half-rack-width components.
The Parasound Zphono-USB is a high-quality analog phono preamplifier engineered for the optimum in playback quality for vinyl LPs. Like its predecessor, the Zphono analog phono preamplifier, which continues in the line, Zphono-USB uses high quality parts and precision RIAA equalization to achieve extremely low levels of noise and distortion, and accurate frequency response.

For the digital realm, the Parasound Zphono-USB also includes an adjustable USB gain control and defeatable RIAA equalization to improve the quality of audio transfers from LPs to digital media. The USB gain control and USB clipping indicator are used to optimize the digital record-output levels for the optimum signal-to-noise ratio with all recording software programs. For those using sophisticated digital music software in their PCs or Macs, the rear-panel RIAA defeat switch allows users to bypass the internal hardware-based RIAA phono equalization in favor of software-based digital equalization. These capabilities are provided only for the rear panel USB digital output.
The Parasound Zphono-USB has a stereo input for an MC or MM phonograph cartridge, and two stereo line-level inputs to facilitate digital transfers of analog sources such as a tuner, CD player or tape deck. Rear-panel settings for MM-47 k, MC-47 k or MC-100 cartridges allow the user to select the ideal impedance matching for their phono cartridge. Front panel rumble-filter and mono/stereo switches are also available to refine the quality of phono playback for older LPs and mono LPs.
There is a single pair of fixed-level line-level outputs and a headphone output. The Zphono-USB has dual power transformers and analog power supplies to minimize noise and an AC polarity reverse switch to combat hum issues related to power line polarity.
Price and Availability
The Parasound Zphono-USB will be available in the first week of September for $350.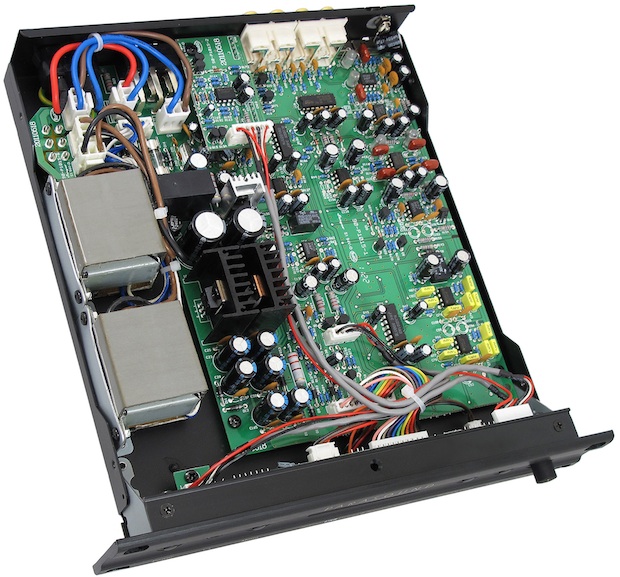 Specifications:
Frequency Response: 20 Hz – 20 kHz, ±0.5 dB
Total Harmonic Distortion: < 0.1% at 20 kHz
S/N Ratio MM:
> 74 dB, input shorted, IHF A-weighted
> 65 dB, input shorted, unweighted
S/N Ratio MC:
> 63 dB, input shorted, IHF A-weighted
> 56 dB, input shorted, unweighted
S/N Ratio Line Inputs:
> 103 dB, input shorted, IHF A-weighted
> 83 dB, input shorted, unweighted
Output Impedance: < 100
Phono Input Impedance:
MM setting: 47 k
MC setting: 47 k or 100
Input Sensitivity, 1 kHz:
MM: 5 mV in for 1.1 V output
MC: 0.5 mV in for 1.1V output
USB A/D Converter: 44.1kHz / 16 bit (CD Quality)
AC Power Requirement:
110-130 VAC, 60 Hz
220-240 VAC, 50 Hz
(Voltage is selected on the chassis bottom side)
30 watts
Dimensions:
Width: 9.5″ (242 mm)
Depth: 10″ (254 mm)
Height, with feet: 2″ (51 mm)
Height, without feet: 1.75″ (44 mm)
Weight:
Net: 5 lbs. (2.3 kg)
Shipping: 8 lbs. (3.6 kg)
Rack Mount Accessory:
SBS — Side by Side Mounting bracket (May be purchased separately)
Blank panel extender (May be purchased separately)