Introducing another AVCHD video camera using 8-cm DVDs
Osaka, Japan – Panasonic, the leading brand for which Matsushita Electric Industrial Co., Ltd. is known, has unveiled two 3CCD high-definition (HD) consumer digital video cameras that record 1080i HD images in the new AVCHD format. Available in Japan from December 1, the HDC-SD1 is the world's first video camera that captures 1080i HD images onto SD/SDHC Memory Cards. The HDC-DX1 that uses 8-cm DVD discs for recording will be on store shelves in Japan on December 15.
Panasonic believes SD/SDHC Memory Cards are ideal for video recording. The postage-size cards do not require any moving parts for recording, making the HDC-SD1 the world's smallest and lightest HD video camera to date.1) The SD/SDHC Memory Cards also promise a 1.7 second quick start-up2), and skip-free, reliable recording. The HDC-SD1, measuring 74 x 69 x 142 mm (430 g weight excl. battery), records up to 90 minutes of HD images on a 4 GB SDHC Memory Card in HE mode (approx. 6 Mbps).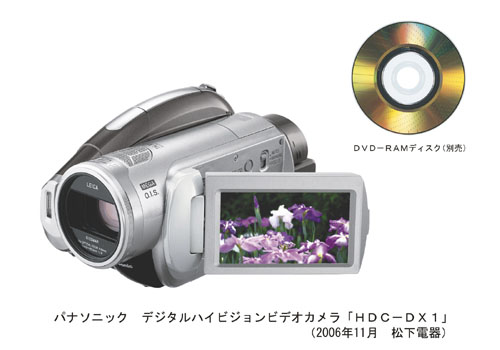 The HDC-DX1 model uses 8-cm DVD discs, providing multi-format compatibility supporting DVD-RAM/-R/-RW and DVD-R double-layer (DL) discs. The HDC-DX1, measuring 92 x 91 x 163 mm (680 g weight excl. battery), records up to 60 minutes of HD images on an 8-cm DVD-R DL disc in HE mode.
Both models support the AVCHD format, an HD digital video camera recording format Panasonic developed with Sony to let consumers enjoy high-resolution home videos easily in the living rooms. This new format enables recording and playback of high-resolution digital images and 5.1-channel surround sound.
The HDC-SD1 and HDC-DX1 feature a newly-developed 3CCD imaging system designed particularly for HD shooting. The new system provides a higher color resolution which is more than double the resolution of conventional image sensors. The new cameras therefore produce more vivid and true-to-life images than ever before. Their high-sensitivity features also allow for shooting in poorly-lit situations – for example, as low as six lux.
Panasonic's expertise in the 3CCD camera system backs the new 3CCD HD video cameras. Since launching the NV-3CCD1 professional video camera in 1992, Panasonic has been working on downsizing and improving the resolution and image quality of the 3CCD camera system. For years, Panasonic's 3CCD video cameras have received high praise from broadcasting professionals.
To achieve high-quality HD recording, Panasonic has also developed a new high-speed HD signal processor, the HD Crystal Engine, that processes images twice as quickly as progressive scan CCDs. Panasonic has also developed a new LSI to implement the MPEG4 AVC/H.264 technology used in the AVCHD format. The two models are equipped with a new compact, wide-angle Leica Dicomar Lens.3) From image processing and compression to recording, the two compact cameras are packed with Panasonic's "black-box" technologies to set a new standard in HD video recording.
In addition to splendid images, the HDC-SD1 and HDC-DX1 feature 5.1-channel surround sound with five microphones, making viewers feel like they are truly a part of the scene. The microphone system has a zoom function. As the camera zooms in the subject, the microphones simultaneously zoom in and pick up the sound around the subject in the distance.
Being Panasonic products, both models include the proprietary Optical Image Stabilizer (O.I.S.) that compensates for unintended hand-shakes when shooting. The larger the TV screen becomes, the more the resolution and clarity become important. The O.I.S. corrects blurring caused by hand-shake without compromising the image quality.
Mr. Shigenobu Hirahara, Associate Director, Corporate Marketing Division for Panasonic Brand in Japan, said, "As we move into the digital high-definition era, our new models mark a new era in the home entertainment, bringing HD video shooting to the reach of consumers. With the introduction of these two types of HD video camera, Panasonic continues to lead the digital HD video camera market."

As a consumer HD video camera which supports the AVCHD format.
For HDC-SD1 only and when the "Quick Start" is selected.
Leica is a registered trademark of Leica Microsystems IR GmbH, and Dicomar is a registered trademark of Leica Camera AG.
About Panasonic
Best known by its Panasonic brand name, Matsushita Electric Industrial Co., Ltd. is a worldwide leader in the development and manufacture of electronic products for a wide range of consumer, business, and industrial needs. Based in Osaka, Japan, the company recorded consolidated net sales of US$76.02 billion for the year ended March 31, 2006. The company's shares are listed on the Tokyo, Osaka, Nagoya and New York (NYSE:MC) stock exchanges. For more information on the company and the Panasonic brand, visit the company's website at http://panasonic.net/.