Panasonic today announced a new retractable power zoom lens to their LUMIX G X series for Micro Four Thirds System digital cameras. The LUMIX G X VARIO PZ 14-42mm/F3.5-5.6 ASPH./ POWER O.I.S. (H-PS14042) lens is extremely compact, approximately 26.8mm in length, and weighs approximately 3.35oz, offering ultra-high portability.
Although the lens is not a single focus length, the retractable-type zoom lens has a short overall length realized by the inclusion of 4 aspherical lenses. The zoom lever on the lens barrel gives user a stable zooming while manual focusing is also available with manual focus lever for more precise control.
The new LUMIX G X VARIO PZ 14-42mm / F3.5-5.6 ASPH. / POWER O.I.S. lens offers a versatile zoom range of 14-42mm (35mm camera equivalent: 28-84mm) suitable for a wide range of scenes from dynamic landscape to portrait. Comprising of 9 lenses in 8 groups, the lens system features excellent contrast at entire zoom range. The inclusion of 4 aspherical lenses that helps achieving the downsizing of lens unit also improves optical performance by minimizing distortion, even at the 28mm wide end. The 2 ED lenses effectively compensates for the chromatic aberration.
Plus, Panasonic's Nano Surface Coating technology is adopted to minimize the reflection at entire visual light range (380nm-780nm) by applying the extra-low refractive index coating with nano-sized structure on the surface of the lens. It results in the super clear picture with dramatic reduction of ghost and flare.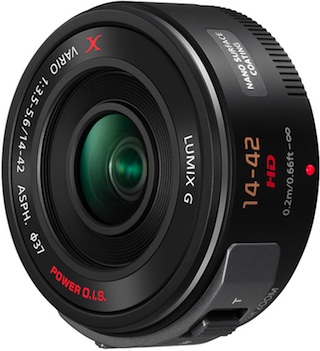 The POWER O.I.S. (Optical Image Stabilizer) which is newly integrated in the LUMIX G X VARIO PZ 14-42mm / F3.5-5.6 ASPH. / POWER O.I.S. makes it easy to shoot super clear shots even in low-lit situations such as in night time or indoors. With the improved sensitivity of the gyro sensor, the new POWER O.I.S. suppresses large, slow movement 2x more effectively. On the other hand, small, fast movements are compensated by the conventional MEGA O.I.S..
When mounted on the cameras of LUMIX G Micro System, users can take advantage of the contrast AF system and the convenient functions applied from it. Adopting an inner focus system driven by a stepping motor, the superior optical design realizes outstanding smoothness to support the high speed AF system of LUMIX G cameras. It achieves approx. 0.1 second Light Speed AF thanks to the downsizing of focus lens and its amount of movement. By speeding up the aperture control, shutter time lag is also shortened by approx. 40% compared with the LUMIX G VARIO 14-42mm / F3.5-5.6 ASPH. / MEGA O.I.S..
With its minimum focus distance of 0.2m (14-20mm) / 0.3m (21-42mm), the new lens provides a maximum photographic magnification of 0.34x (35mm equivalent). 7 aperture blades consists a circular aperture diaphragm and produces an attractive smoothness in out-of-focus areas even shooting at large aperture.
Specifications
| | |
| --- | --- |
| Lens Construction | 9 elements in 8 groups (4 Aspherical lenses, 2 ED lenses) |
| Nano Surface Coating | YES |
| Mount | Micro Four Thirds mount |
| Optical Image Stabilizer | YES (POWER O.I.S.) |
| Focal Length | f = 14mm to 42mm (35mm camera equivalent 28mm to 84mm) |
| Aperture Type | 7 diaphragm blades / Circular aperture diaphragm |
| Aperture Range | F3.5 (Wide) – F5.6 (Tele) |
| Minimum Aperture | F22 |
| Closest Focusing Distance | 0.2m / 0.66 ft (14-20m), 0.3m / 0.98 ft (21-42mm) |
| Maximum Magnification | Approx. 0.17x / 0.34x (35mm camera equivalent) |
| Diagonal Angle of View | 75° (W) – 29° (T) |
| Filter Size | 37mm / 1.5inch |
| Max. Diameter | 61mm / 2.4inch |
| Overall Length | Approx. 26.8mm / 1.1 inch (when retracted) |
| Weight | Approx. 95g / 3.4oz (excluding lens cap and lens rear cap) |
| Standard Accessories | Lens cap, Lens rear Cap, Lens storage bag |
| Others | Electric zoom lever, Manual focus lever |
Price and Availability
The new LUMIX G X VARIO PZ 14-42mm/F3.5-5.6 ASPH./ POWER O.I.S. (H-PS14042) lens will be available October 2011 in black or silver for $399.99. It is compatible with the DMC-G3, DMC-GF3, DMC-GF2 with a firmware upgrade, and comes included on the DMC-GF3X.