Panasonic today announced that it is expanding its 2010 lineup of DECT 6.0 PLUS cordless telephones with new models available in attractive accent colors. The KX-TG6572 expandable digital cordless telephone with answering system sports an elegant soft wine red or metallic dark blue design and is available at retail nationwide this month.
The top performance KX-TG6572 telephone with digital answering system features Panasonic's proprietary DECT 6.0 PLUS technology for enhanced sound quality and extended range, while adding contemporary flair to the home decor. The KX-TG6572 model also offers Panasonic's popular Talking Caller ID feature, which announces the caller's name or number between rings so it is not necessary to pick up the phone to know who is calling.
Because the system is compatible with other 2010 Panasonic DECT 6.0 PLUS single-line cordless handsets, consumers may choose to place a black or silver handset in the office or den and the wine red or metallic blue phone in the living room or bedroom, for example.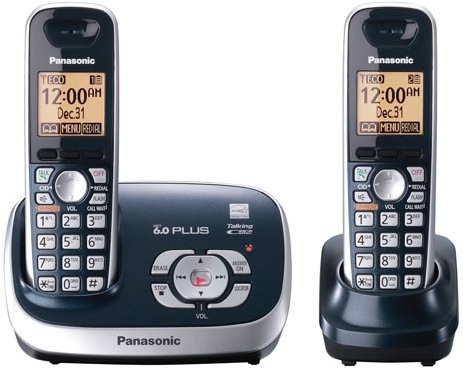 Key features of the KX-TG6572 include:
Silent Mode — Prevent a bedside (or any individual) handset from ringing at specified times.
Intelligent Eco Mode — Automatically lowers the power consumption when you're using the handset close to the base unit.
Non-slip Handset Design — Rubberized grip makes it easier to cradle the phone when you need your hands free.
Energy Star® Certification — Phones use about one-third less energy than non-qualified models.
Expandability — Supports up to six handsets.
Optional Range Extender module — Doubles effective transmission range between base station and handsets.
The Panasonic KX-TG6572R (wine red) and KX-TG6572C (dark blue) are both $69.95 and come bundled with two handsets; additional handsets KX-TGA651B, can be purchased for $39.95. The optional Range Extender module is sold separately for $29.95.
Reviews Around the Web:

panasonic kx-tg6572
<!-comments-button-->