12x Superzoom Camera with 25mm Ultra-wide angle Leica Lens
Panasonic today introduced the LUMIX DMC-ZS5 (also known as the DMC-TZ8 in some countries), which like the LUMIX ZS7, features a 25mm ultra-wide angle Leica lens, 12x optical zoom and manual controls. Distinguishing it from the LUMIX ZS7, the LUMIX ZS5, has a 2.7-inch, 230,000-dot Intelligent LCD, records HD video in Motion JPG at 30fps, and has a high performance Venus Engine VI. Battery life on the LUMIX ZS5 has approximately 330 photos and does not include GPS capabilities.
The Panasonic DMC-ZS5 is the successor to the DMC-ZS1. The new camera includes many new features, including manual controls, faster autofocus speeds, improved image stabilization.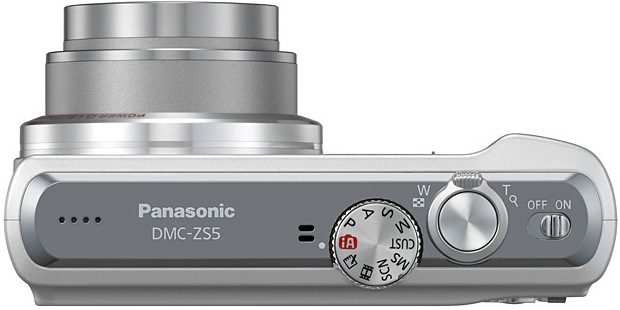 Pricing and availability for the Panasonic LUMIX ZS5 will be announced 30 days prior to shipping date. The Panasonic LUMIX ZS5 will be available in black and silver.
See comparison on Panasonic's new cameras announced today.
DMC-ZS5
DMC-ZS7
12.1 Megapixel CCD
12.1 Megapixel CCD
F3.3-4.9, 12X optical zoom Leica lens,
equivalent to 25 – 300 mm
F3.3-4.9, 12X optical zoom Leica lens,
equivalent to 25 – 300 mm
POWER O.I.S. (Optical Image Stabilizer)
POWER O.I.S. (Optical Image Stabilizer)
Venus Engine VI processor
Venus Engine HD II processor
2.7″ LCD display with 230,000 pixels
3-inch LCD display with 460,000 pixels
Full manual controls
Full manual controls
Records movies at 1280×720 (30 fps)
using M-JPEG codec; optical zoom can be used in movie mode
Records movies at 1280×720 (60 fps)
(sensor output is 30 fps) using AVCHD Lite codec
40MB onboard memory
+ SD/SDHC/SDXC slot
15MB onboard memory
+ SD/SDHC/SDXC slot
DMW-BCG10 li-ion battery;
330 shots per charge
DMW-BCG10 li-ion battery;
300 shots per charge using the same li-ion battery
Colors: silver and black
Colors: silver, black, red, and blue
Built-in GPS records the coordinates of photos as you take them for easy geotagging
Camera has database of 500,000 popular landmarks in 73 countries; if camera knows where it is, it'll tag the photo for you (though you can override this)
Clock is automatically adjusted to local time using the GPS
Sound is recorded using Dolby Digital Stereo Creator
New "video divide" function lets you trim video clips right on the camera
Motion JPEG codec remains available for those who don't want to deal with AVCHD Lite
Face detection and Intelligent Resolution features also available in movie mode
HDMI output