World's First 0.3mm Thin Aspherical Lens With 8x Optical Zoom
Panasonic introduced the new LUMIX DMC-ZR1 digital camera, featuring the world's first 0.3mm thin aspherical lens*, allowing for a compact body that still features a powerful, 25mm-ultra-wide-angle, 8x optical zoom** LEICA DC VARIO-ELMAR lens. Known for its long-zoom, yet compact digital cameras, Panasonic's newest ZR1 compact digital camera gives consumers increased flexibility.
"The ZR1 answers the call of consumers looking for a truly pocketable digital camera, while still featuring a zoom more powerful than typical compact cameras," said David Briganti, Senior Product Manager, Imaging, Panasonic Consumer Electronics Company. "We know consumers want to catch every shooting opportunity, and with the ZR1, this is possible through unique features such as the ultra-wide-angle lens and Panasonic's popular iA Mode."
With a zoom range of 25-200mm, the ZR1 allows for both expansive scenery photos as well as close-ups. This powerful zoom also works during video recording. The 12.1-megapixel resolution allows photos to be greatly enlarged while still retaining outstanding detail.
Another key feature of the ZR1 is its fast, high-speed Auto Focus (AF). This, combined with a high-speed start-up of only 1.1 second, helps the ZR1 to catch even the quick action shots. Making this camera even more versatile and easy-to-use, the ZR1 has a 2.7-inch Intelligent LCD, and a powerful battery life with the highly energy-efficient image processing LSI — Venus Engine V*** — which takes approximately 330 pictures during a single charge. As found in all Panasonic LUMIX cameras, the ZR1 features Intelligent Auto (iA) Mode, now with POWER Optical Image Stabilizer (O.I.S.), which features double the repression power, compared to MEGA O.I.S., the previous image stabilization system, to help capture blur-free images.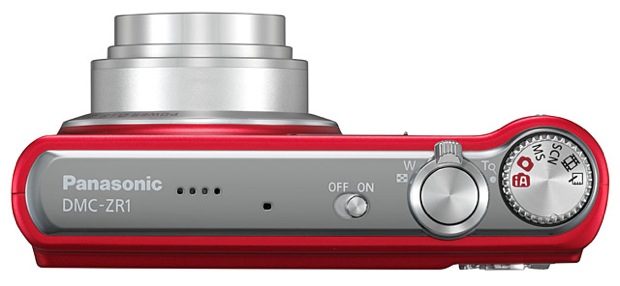 Other features of the DMC-ZR1 include:
Additional Intelligent Auto (iA) Mode Features

Hand-Shake Component — Answers the problem of natural hand-shaking that goes along with pressing the shutter button.
Face Recognition — Up to six faces can be registered, and up to three can be simultaneously recognized to show their names once registered.

Travel Mode — Users can quickly organize information related to travel, including destination, date and time. Playback of these photos is just as easy, by designating the date or period of travel on the calendar menu interface.
High Dynamic Mode — Helps to capture a scene with moderate exposure even when the scene may contain both bright and dark areas.
PHOTOfunSTUDIO 4.0 — Included software allows the user to view, edit and archive captured photos and videos. It features dramatic speed-up of operation and also allows users to store and sort photos by a specific, recognized face in the image.
The LUMIX DMC-ZR1 will have a suggested retail price of $279.95 and will be available in September 2009 in black, red, blue, and silver.
* For digital still cameras
**35mm film camera equivalent: 25-200mm
***Based on a CIPA standard