Panasonic today announced the 10-megapixel LUMIX DMC-LX7 equipped with a fully re-designed lens, image sensor and image processing engine for superior performance and stunning image quality. Its newly developed 24mm ultra-wide angle LEICA DC VARIO-SUMMILUX lens with 3.8x optical zoom features F1.4 brightness at wide-end and F2.3 at tele-end. The F1.4 brightness is approximately 400% as bright as an F2.8 lens. The extraordinarily rich amount of light allows for the use of higher shutter speed to capture stunningly clear, sharp, blur-free images in low light situations and also provides impressive expression to images by reproducing exquisite gradation and mellow defocus to elevate photography.
The LUMIX LX7's lens unit consists of 11 elements in 10 groups with five aspherical lenses with nine aspherical surfaces, including the dual-sided aspherical surface ED (Extra-low Dispersion) lens, which has never before been adopted by any Panasonic LUMIX digital camera or interchangeable lens. This advanced lens system makes it easy to produce beautiful photos in high resolution with minimal distortion and a pleasing, soft-focused background. Nano Surface Coating technology dramatically minimizes light reflection at entire visual range (380nm-780nm). The LX7's 24mm ultra-wide-angle lens gives users a wider range of composition possibilities, capturing approximately 136% larger viewing space compared to that of a 28mm wide angle camera. Additionally, the LUMIX LX7's lens minimizes distortion at wide end so users obtain stunning, true-to-life images with outstanding resolution and detail.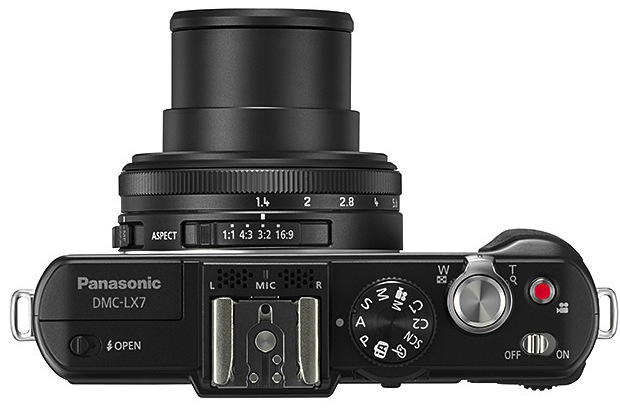 The LUMIX LX7 adopts a new 1/1.7-inch 10.1-megapixel MOS Sensor that features an improved S/N ratio by 1.5 dB compared with its predecessor, the LUMIX DMC-LX5 which results in high resolution images with stunning clarity in high sensitivity recording and also in low ISO, reproducing rich gradation with wide dynamic range even when the situation is highly contrasted. The LUMIX LX7's high performance Venus Engine also boasts advanced signal processing. The Intelligent NR (Noise Reduction) system keeps resolution high by optimizing the NR process applied to each part of an image. The Multi-process NR quickly detects brightness in each portion of a picture and applies optimal noise reduction in multiple steps. High-speed digital signal output has been integrated into the LUMIX LX7 to realize high-speed consecutive shooting at 11 fps (frames per second) in full resolution with mechanical shutter and 5 fps with continuous AF (Auto Focus).
Creative Control Mode offers 16 filter options including Soft Focus, Dynamic Monochrome, Impressive Art, One Point Color, Cross Process, Low Key, Toy Effect, Star Filter, Expressive, Retro, High Key, Sepia, Hi Dynamic, Miniature Effect and the new exclusive Radial Defocus and Smooth Defocus modes. Radial Defocus adds defocus effect radially from the light source while Smooth Defocus makes defocus figuration even smoother. Photo Style is also available to provide photos with finer expression with Standard, Vivid, Natural, Monochrome, Scenery, Portrait and Custom preset options. The Time Lapse Shot function allows users to capture a record of stationary observation for objects such as flowers coming into bloom, wild animals and moving clouds. Additionally, full manual control is available on the LUMIX LX7 so advanced users can enjoy more creative photography.
The LUMIX LX7 features both iA (Intelligent Auto) and iA Plus modes. In addition to the popular functions of iA- POWER O.I.S., AF Tracking, Intelligent D-range Control, Intelligent Scene Selector, Face Recognition, Intelligent ISO Control, Intelligent HDR (High Dynamic Range), Intelligent Handheld Night Shot and Motion Deblur modes- iA Plus mode allows users to adjust defocusing area in the background, exposure compensation and white balance for more flexible control
Equipped with a new 3.0-inch 920,000-dot Intelligent LCD screen with super high resolution and wide angle viewing, the LUMIX LX7's screen brightness automatically adjusts in 11 steps as surrounding brightness levels change, ensuring easy visibility at all times. To enhance operability, the LUMIX LX7 has been equipped with an aperture ring, internal ND filter, focus lever and rear dial in order to control light source. The newly added Level Gauge detects horizontal or vertical angle of view which is helpful in keeping horizontal composition even when shooting in high or low angle.
In addition to recording stunning still imagery, the LUMIX LX7 also records high resolution full-HD 1920×1080@60p videos in AVCHD Progressive (MPEG-4 / H.264) format or 30p in MP4. The LUMIX LX7 features a dedicated video record button on the top of the camera body so users can instantly start recording videos while shooting photographs without changing any settings. Along with full-HD video capabilities with 3.8x optical zoom with step zoom function and POWER O.I.S., the LUMIX LX7 also features high-quality sound, recorded with Dolby Digital Stereo Creator to offer highly realistic sound to images. The stereo microphone comes with a zoom noise reduction system and an Auto Wind Cut function blocks out most background noise from wind. Additionally, Creative Video mode lets users set the camera shutter speed, which can create special effects in videos, and aperture, which is convenient when there are several subjects at different distances, manually to create even more impressive videos.
Additional features of the LUMIX LX7 include:
RAW and RAW+JPEG data recording options
Aspect Bracket / White Balance Bracket
HDR mode
Panorama Shot mode
3D Photo mode
Creative Retouch
Price and Availability
The Panasonic LUMIX DMC-LX7 will be available in black and white. Pricing and availability will be announced approximately 30 days prior to shipping. See more digital cameras.