Panasonic DMC-FH20
Panasonic just introduced the new FH-Series to its 2010 line of LUMIX digital cameras, which includes the LUMIX DMC-FH20 (14.1-megapixels), LUMIX FH3 (14.1-megapixels) and LUMIX FH1 (12.1-megapixels). The LUMIX FH-Series are slim, pocketable models that pack a 28mm wide-angle lens with 8x optical zoom for the FH20 and 5x optical zoom for the FH3/FH1. All models can record High Definition video and thanks to iA (Intelligent Auto) — are extremely easy to use.
"With the new Panasonic LUMIX FH-Series, consumers will be thrilled to see small, easy-to-use digital cameras that do not compromise quality or advanced features. Though there are similarities within the family, we expect slightly different users for each model. The step-up FH20 will be attractive for sophisticated digital camera users who want a longer zoom, perhaps to take photos of their kids playing sports," said David Briganti, Senior Product Manager, Imaging, Panasonic Consumer Electronics Company. "Meanwhile, for the LUMIX FH3/1, we expect first-time buyers who may not be as concerned with a long zoom, but who still demand high performance and ease-of-use will be drawn to these models."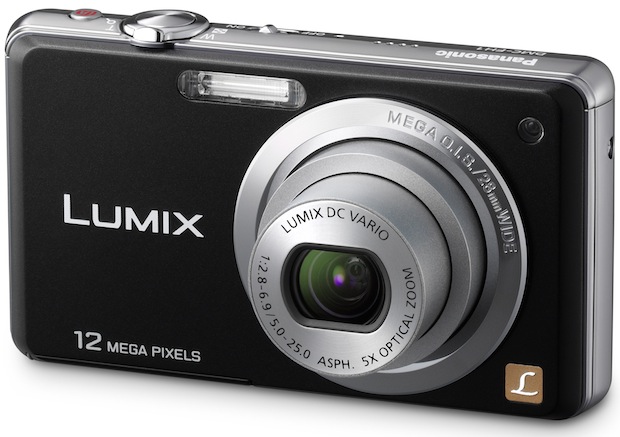 Panasonic DMC-FH1
The LUMIX FH-Series features High Definition (HD) 720p motion jpeg video recording capabilities. By recording 1280 x 720p at a smooth 30 fps, in addition to WVGA (848 x 480) and normal VGA (640 x 480), the LUMIX FH-Series makes it easy to view videos on a PC or upload it seamlessly to YouTube with the bundled PHOTOfunSTUDIO version 5.0 software. All models are compatible with Windows 7 and can take HD-quality still photos that fill a 16:9 HDTV. Users with a Panasonic VIERA HDTV can enjoy a slideshow of photos simply by inserting an SD Memory Card into the HDTV's SD Memory Card Image Viewer slot.
Panasonic's popular iA mode, a suite of technologies that engage automatically — with no setting changes needed by the user — makes it easy for anyone to take beautiful photos. Panasonic iA includes the following: MEGA O.I.S. (Optical Image Stabilization) to help reduce blurry photos due to hand-shake; Intelligent ISO Control to help reduce blur when the subject is moving; Face Detection to ensure registered faces are captured in focus with appropriate exposure and unwanted red eyes are digitally corrected; and Intelligent Scene Selector which selects the best option from: Macro, Portrait, Scenery, Night Portrait, Night Scenery and newly-added Sunset. There is even a dedicated iA button, letting users engage easily with one click. The three models also have a 2.7″ 230,000-dot Intelligent LCD, meaning the LCD detects the lighting conditions and controls the brightness level in 11 fine steps, to display with the most appropriate setting.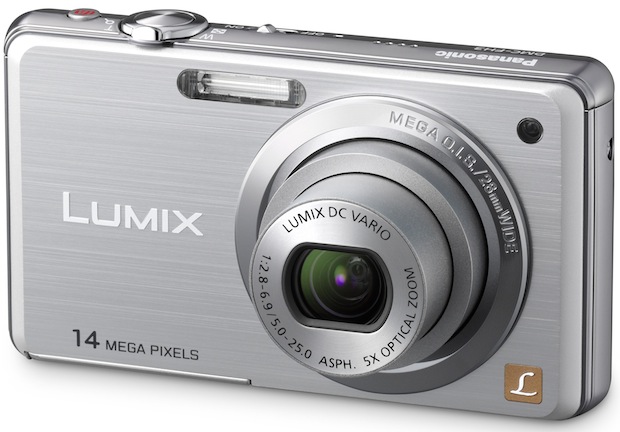 Panasonic DMC-FH3
The Panasonic LUMIX FH-Series includes the Venus Engine IV image processor, which features advanced signal processing technology to produce a fast response time. The shutter release time lag on the FH20 and FH3 is approximately 0.006 second; and approximately 0.007 second for the FH1. The Auto Focus on the three models can lock on the subject in minimum 0.35 second.
Other features of the Panasonic LUMIX FH-Series digital cameras include:
Quick Setting — Allows the users' most frequently-used settings, such as O.I.S., consecutive shooting, Auto Focus Point, White Balance — to be easily accessed through the "Quick Menu" button. There's no need to open several menu screens to adjust them — the user simply selects convenient icons displayed on the menu.
Scene Modes: Baby, Pet and Sports modes let the user choose the setting and the camera does the rest. Users can also record the name/birthday of a child or pet and embed the information in the photo and have it printed if desired.
Photo Frame: Put attractive borders around the photo and when printed, the photos look like postcards in picture frames.
My Scene — Lets the user customize specific Scene modes that they like best, so they can quickly and conveniently switch instantly to the mode
Macro Zoom — Pulls subjects even closer by using 3x digital zoom, and captures even more dramatic close-ups.
SDXC Computability — Compatible with SDXC Memory Cards, including Panasonic's newly announced 48 GB*4 and 64 GB SDXC Memory Cards — to enable high capacity content storage and fast data transfer speeds.
Battery Life — The FH20 can take up to 300 images and the FH3/FH1 can take up to 310 images on a single battery charge
Pricing and availability for the Panasonic LUMIX FH20, LUMIX DMC-FH3 and LUMIX DMC-FH1 will be announced 30 days prior to shipping date. Encased in a brushed metal-finished panel, the FH20 will be available in silver, black, red and violet models. The LUMIX FH3 and FH1 will be available in silver and black.