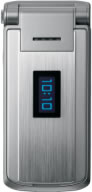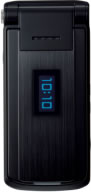 Thinnest and lightest ever (approx. 16.7 mm and 99 g) for FOMA i-Mode Offers enriched functions of speaking, listening, and seeing
Panasonic Mobile Communications Co., Ltd. (President: Yoshiaki Kushiki) has begun delivery of its "prosolid II" proprietary mobile handset to NTT DoCoMo, Inc. Using aluminum panel and magnesium alloy have achieved sophistication in its design and rigidity, making it possible the slimmest and lightest DoCoMo handset (approx 16.7 mm and 99grams) ever before. To enhance easy-to-use functionality, "prosolid II" is equipped with a wide-diameter speaker and QVGA LCD, providing enriched functions such as TV phone, i-ChannelTM, i-Appli, and infrared data communications. With "prosolid II" debut, Panasonic Mobile Communications is committed to provide consumers with a portfolio of products that are sophisticated in design and feature-rich mobile communications.
Features of the prosolid II
The thinnest and lightest FOMA i-Mode handset ever with the usage of shock-resistant aluminum panel and magnesium alloy.
Elegant beauty in the details realized by the use of hairline-processing and chic colors that treasures the meal texture and material.
Smooth and clear sound with a wide-diameter speaker and noise canceller.
Vivid and distinct display images and texts with a high-definition QVGA LCD and in bold font letters.
"FOMA", "i-Mode", "prosolid", "i-Channel" and "i-Appli" are trademarks or registered trademarks of NTT DoCoMo Inc.
Major Specifications:
Size (H x W x T): Approx. 106 x 49 x 16.7 mm
Weight: Approx. 99 grams
Continuous call time: Voice call – Approx. 140 minutes, TV phone – Approx. 100 minutes
Continuous standby time: Static – Approx. 460 minutes, Dynamic – Approx. 350 minutes
Main display: Approx. 2.2 inches QVGA (240 x 320 pixels) 65,536-color TFT color LCD
Sub display: Approx. 0.8 inches, Organic EL
About Panasonic Mobile Communications
Panasonic Mobile Communications Co., Ltd., whose headquarters are based in Yokohama, Japan, is a worldwide leader in the development and manufacture of mobile communications products. As one of the main business domains for Matsushita Electric Industrial Co., Ltd., best known for its Panasonic brand digital electronics, Panasonic has been developing cutting edge technologies since its establishment in 1958, including the world's first 3G video handset for the Japanese market in 2001. Panasonic is committed in providing added-value solutions to end-users through its mobile communication products. For more information, please visit www.panasonic.co.jp/pmc/en