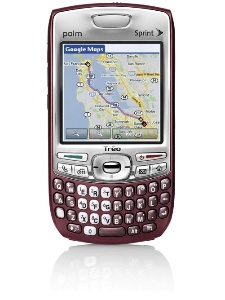 First Palm OS Based Treo Device with Built-in Microsoft Direct Push Technology for Email and Integrated Google Maps for Mobile
Evolving the Treo™ product line to keep mobile professionals connected, productive and entertained, Palm, Inc. (Nasdaq: PALM) today introduced the Treo 755p smart device, a new Palm OS Treo for Sprint (NYSE:S). The CDMA Treo 755p is the first Treo device to offer built-in Microsoft Direct Push Technology email support; Google Maps for mobile; and the latest Treo design, with integrated antenna, slimmer form factor and mini-SD slot. Sprint is the first carrier selling the next-generation Treo 755p, which is available for as low as $279.99 with a two-year service agreement and a $100 mail-in rebate, and is available starting mid-May in two fashionable colors – midnight blue and burgundy.
The new Treo 755p brings customers quick, wireless access to web, email, business, multimedia applications and instant messaging (IM) for Sprint customers nationwide (standard text and Vision charges apply where applicable). The Treo 755p runs on the Sprint Mobile Broadband Network, the nation's largest mobile broadband network – reaching more than 206 million people across the country in more than 11,000 cities and 1,000 airports.
"The Treo 755p is a stylish and powerful device ideal for business professionals looking for the power to do more while on the go," said Danny Bowman, vice president of customer equipment for Sprint. "Building upon the success of the Treo 700p, we've added enhancements such as Mobile Voice Control, a new IM application and Sprint TV(SM) in the ROM for mobile entertainment and news."
As the newest member of the Treo family, the Treo 755p smart device combines the sleek, internal antenna hardware design of devices such as the Treo 680 and Treo 750 with Palm's latest Palm OS software, shipped on millions of Palm OS based Treo devices worldwide. Currently, there are more than 29,000 Palm OS applications commercially available, from healthcare and sales force automation to games and travel. Palm differentiates this smart device from others in the Treo line by offering the following features along with many additional enhancements.
First Palm OS based Treo Device with Built-in Support for Microsoft Direct Push Technology for Email
The Treo 755p offers VersaMail 3.5.4 with built-in Microsoft Exchange ActiveSync support for Microsoft Direct Push Technology that delivers automatic updates to Outlook email. Companies can choose to eliminate costly third-party software and take advantage of their existing Exchange infrastructures. Businesses connected to a Microsoft Exchange Server get fast, automatic wireless updates of email, calendar and contact information with added IT security and remote manageability.
"The new Treo 755p keeps mobile professionals in touch with coworkers and family while managing a variety of communications and information to stay productive and maximize downtime," said Caitlin Spaan, vice president, carrier marketing, for Palm, Inc. "The fast speeds of the Sprint Mobile Broadband Network and Palm's hallmark ease of use make viewing rich applications, streaming live music and video as well as using the web an enjoyable experience."
First Treo Integrating Google Maps for Mobile
Also new to the Treo 755p is the integration of Google Maps™ service for mobile. With Google Maps built into the ROM, right out of the box, Treo 755p users can get directions; perform local searches; and view moveable/scalable maps, satellite imagery, and traffic updates while on the go.
"By integrating Google Maps for mobile into the Treo 755p, we're making it even easier for users to get directions, maps, local listings, and traffic updates for wherever life takes them," said Steve Lee, product manager for Google Inc. "We're focused on delivering the best possible mobile experience to as many users as possible, and working with innovative companies like Palm helps us do just that."
Other Treo 755p Features and Benefits
Ability to watch mobile video directly on the Treo 755p with Sprint TV, which features more than 50 channels of live and on-demand content, including CNN, FOX, ESPN, The Weather Channel, MTV, E! and The Cartoon Network;
Dial-up networking via USB or Bluetooth wireless technology on the Sprint Mobile Broadband Network for using the Treo 755p as a modem for a laptop computer (requires an appropriate service plan);
Superior phone functionality, including one-touch speakerphone and conference calling, the ability to ignore a call with text messaging, and the option to use the touch-screen dial pad;
Support for EvDO (Rev.0) speeds, which makes streaming mobile content, such as live TV, movie clips and audio from radio stations, as well as training videos or company communications, enjoyable;
128MB memory (60MB user available) and support for Mini-SD memory cards up to 4GB;
Voice-memo application, which can be used to create custom ring tones and add voice annotations to photos or simply record a quick memo;
Threaded SMS/MMS messages in a single chat view and out-of-the-box support for Yahoo!, AOL, and Gmail;
.3-megapixel digital camera and video recorder, and application to organize and share photos;
Support for Sprint Picture Mail;
Smart, fast web browsing using the award-winning Access browser;
Full PDF support using DataViz Documents To Go Version 8.0, which also offers support for native Microsoft Word, Excel and PowerPoint documents;
ser-friendly and familiar Palm OS platform, including one-touch access to key applications;
Color touch screen and full QWERTY keyboard for easier email, messaging and web use;
On-device user's guide, giving customers access to the full user's guide right from the device; and
Default data transfer mode, which allows users to be notified of incoming voice calls while using data services, rather than calls automatically going to voicemail.
More information about the Palm Treo 755p can be found at http://www.palm.com/Treo755p.
Pricing and Availability
The Treo 755p will be available beginning mid-May from Palm stores and online at http://www.palm.com. It also will be available at Sprint stores and at http://www.sprint.com for as low as $279.99 after available discounts and promotions.
About Palm, Inc.
Palm, Inc., a leader in mobile computing, strives to put the power of computing in people's hands so they can access and share their most important information. The company's products for consumers, mobile professionals and businesses include Palm Treo™ smartphones and Palm handheld computers, as well as software, services and accessories.